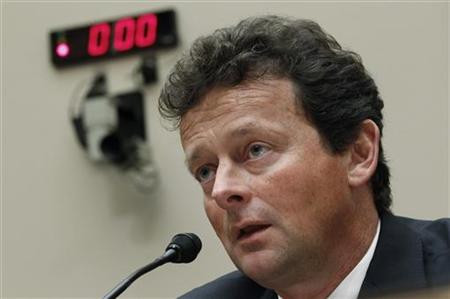 Tony Hayward, CEO of BP is to step down from his position in October, the BBC reports, following his handling of the oil spill in the Gulf of Mexico, which has been the largest ecological disaster in U.S. history and has wiped out nearly half the value of BP shares since the crisis began in April.
As of yet it is unclear how high Mr Hayward's payoff is likely to be or what he will do next, but it has been reported that he will move to the group's BP-TNK joint venture in Russia.
His likely successor is Bob Dudley, who is currently overseeing the clean-up operation and whose Mississippi background is seen as an asset in rebuilding the PR damage down to BP thanks to a series of ill-advised comments by Mr Hayward which did not endear him to the American public, especially those affected by the oil spill in Gulf states.
During the crisis Mr Hayward enraged American's with comments such as "the Gulf is a big sea" and "I want my life back" and failed to impress U.S. legislators when he appeared at a congressional hearing. He was accused of "stonewalling" his questioners by often saying he did not know the answer to their questions and that they should wait till a full investigation is carried out.
Mr Hayward's resignation comes ahead of BP's second quarter results, which will be released tomorrow and are expected to show profits of around $10 billion, despite the ever increasing cost of the oil spill.
The overall cost of the oil spill is likely to reach as much as $30 billion, including not just the cost of capping the leaking well, but of the clean-up effort and compensation payments to those who have lost their livelihoods.
Shares in BP recovered some of their lost value today after it emerged that Mr Hayward would almost certainly be stepping down. At the close shares in BP had increased 4.60 per cent to 416.95 pence per share.
Mr Hayward's farewell package could be an issue of contention, given his dubious performance in recent months. It is believed that his contract would entitle him to at least one million pounds, while he would also be able to claim a pension of £584,000 a year, but only from when he turns 60 in eight years time.