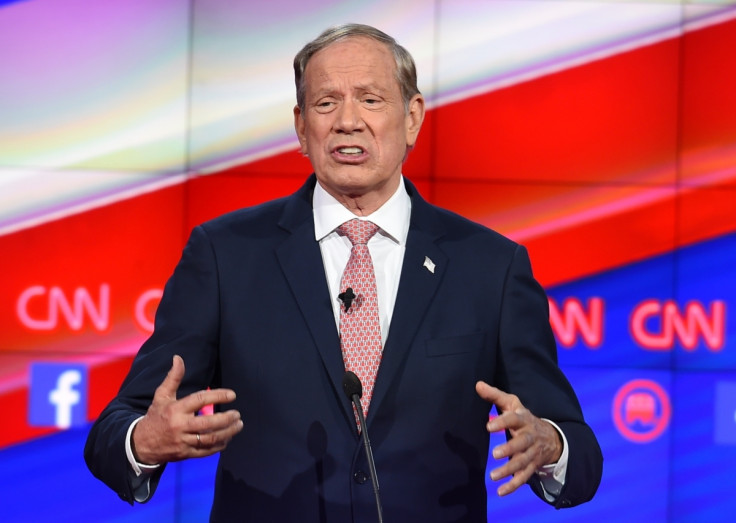 Raise your hand if you forgot former New York Governor George Pataki was running for US president. Now put your hand down, because it appears the long-shot Republican candidate is ready to call it quits. Pataki is reportedly calling his supporters in New Hampshire to tell them he intends to drop his bid for the White House, The Boston Globe's James Pindell Tweeted on 29 December.
Ben Gamache, a New Hampshire realtor who was on Pataki's steering committee in the Granite State, told NBC News he received a call from Pataki, who said he planned to end his campaign but did not specify when he would make the announcement publicly. "He thanked me for my friendship, my support, he said we're gonna work together as a Republican Party and we're gonna get the best man in office and he doesn't want to stand in the way of that," he said.
Bruce Breton, another member of the steering committee, confirmed that he too received a similar phone call. He later tweeted, "I think I'm a free agent now #nhpolitics #fitn". According to NBC News, Pataki's campaign made an announcement to NBC affiliates in New Hampshire, Iowa and South Carolina that a "special message" from the governor would air at 9pm EST/2am GMT.
The moderate Republican candidate has failed to break through to the top of the GOP field and was relegated to the undercard debates. The Hill noted that Pataki also struggled to raise campaign funds, but insisted that he was continuing to hold fundraisers and could still get support from donors.
Pataki's alleged decision to quit the race comes weeks before the Iowa caucus on 1 February and New Hampshire primary on 9 February. According to Talking Points Memo, the former governor missed the filing deadlines for primaries in Virginia and Florida.
If the reports are true, Pataki would drop out a little over a week after South Carolina Senator Lindsey Graham announced his decision to drop out on 21 December. Wisconsin Governor Scott Walker, former Texas Governor Rick Perry and Louisiana Governor Bobby Jindal have also dropped out of the race.