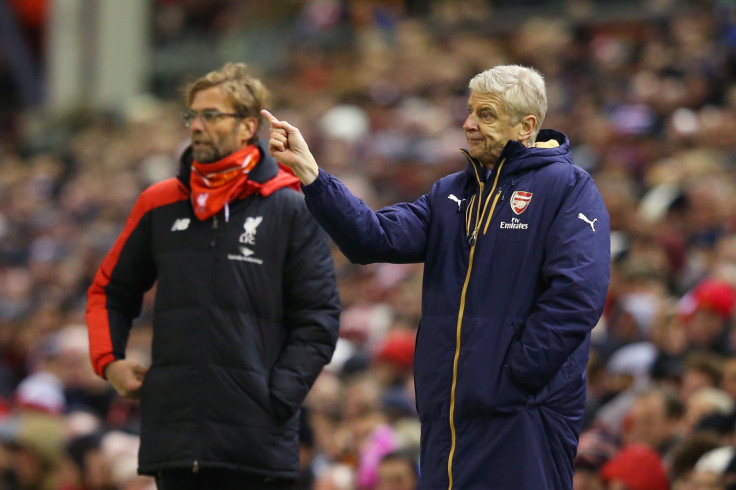 The Premier League season draws to a close on Sunday (21 May) and Liverpool, Manchester City and Arsenal are the only sides keeping it interesting. Yes, clubs are still jostling for a better share of the Premier League prize money pot determined by their final finishing place, but most of the headlines have already been written.
Chelsea are champions. Tottenham Hotspur are confirmed runners up. Hull City, Middlesbrough and Sunderland have taken the plunge to the Championship. But there could be some final day excitement yet in determining which two sides join Chelsea and Spurs in next season's Champions League.
Heading into Sunday, just three points separate third- placed Man City, fourth-placed Liverpool and fifth-placed Arsenal. Should all three sides win their final matches against Watford, Middlesbrough and Everton respectively, then it's simple – City and Liverpool secure the remaining Champions League qualification spots with Arsenal missing out for the first time in 20 years and entering the Europa League.
Competing in Europe's premier competition means attracting new players becomes a whole lot easier for Messrs Pep Guardiola, Jurgen Klopp and Arsene Wenger this summer, with the added carrot of competing for a share of the competition's hefty €1.31bn (£1.11bn) prize money.
There is a lot on the line and the tantalising prospect of a Champions League play-off still exists. Should any two of those three sides finish the season level on points, goal difference and goals scored it will trigger the activation of rule C.17 in the Premier League regulations, which reads: "If at the end of the season either the League Champions or the Clubs to be relegated or the question of qualification for other competitions cannot be determined because two or more Clubs are equal on points, goal difference and goals scored, the Clubs concerned shall play off one or more deciding League Matches on neutral grounds, the format, timing and venue of which shall be determined by the Board."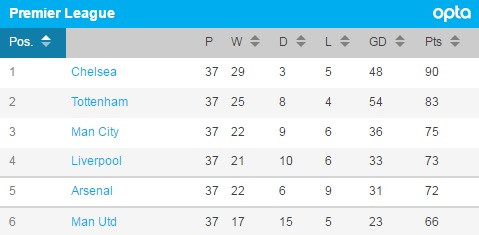 So what needs to happen on Sunday for the 39th game to be triggered?
Scenario 1: Arsenal vs Liverpool – Champions League fourth place play-off
28 years ago, Arsenal and Liverpool battled out perhaps the most thrilling final day in the modern history of English football. Could they do it again? Let's consider a scenario where Liverpool suffer a shock 2-0 defeat at home to Middlesbrough. An Arsenal victory against Everton would seal a top four finish, but a 1-1 draw would leave both clubs tied on points, goal difference and goal scored, triggering the play-off.
Ahead of kick-off, Liverpool's goal difference over Arsenal's is better off by two having scored one more than the Gunners. A scenario where Klopp's side concede two without replying with Arsenal registering one against Everton would leave things all square. As would score lines of Arsenal 2-2 Everton with Liverpool losing 3-1, Arsenal 3-3 Everton with Liverpool losing 4-2. You get the picture.
Scenario 2: Arsenal vs Manchester City – Champions League fourth place play-off
City are in the best position heading into the final day, but their encounter with an unpredictable Watford side being managed by Walter Mazzarri for the last time means it could still blow up in their faces.
City's goal difference is currently five better off than Arsenal's, having scored one more than Wenger's side. But should Guardiola's side implode and lose 4-0 at Vicarage Road and Arsenal sneak a 1-0 win over Ronald Koeman's side, those results will wipe out City's goal advantage and leave the sides tied on 75 points with 75 goals scored and 43 conceded.
Should Liverpool do the business against Middlesbrough, that would lift them into third, leaving Guardiola and Wenger to duke it out for fourth.
Scenario 3: Liverpool vs Manchester City – Champions League third place play-off
The team who finishes fourth on Sunday still faces the prospect of a Champions League play-off. It's never really a problem – Manchester City and Manchester United won their ties by a six-goal margin the last two seasons – but it does mean an earlier start to the season. Finishing third makes life much easier as it guarantees automatic qualification for the group stages. A play-off to determine who has that luxury is still a possibility.
Should City and Watford fight out a thrilling high-score draw and Liverpool hammer already-relegated Middlesbrough, then we're on. A 3-3 draw at Vicarage Road and a 3-0 win for Klopp's side at Anfield would force this scenario.