McDonald's Profits Hit By Europe's Recession and US Competition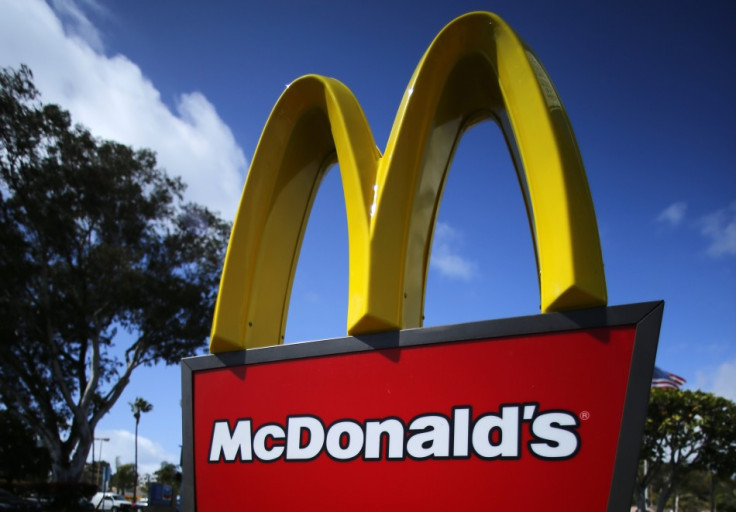 Fast-food giant McDonald's revealed that its second-quarter profit was hit by rising competition in its biggest market, the US, and by the ongoing recession across Europe.
McDonald's chief executive Don Thompson is also under renewed pressure as the group does not expect business to strengthen in the second half of this year.
Thompson was made the CEO a year ago, when the world's biggest restaurant chain by sales enjoyed a multi-year run of sales and profit growth.
The announcement will come as a disappointment to Wall Street as analysts expected McDonald's business to pick up in the middle of 2013, as food inflation and other pressures ease.
The group expects global same-restaurant sales to remain relatively flat in July. Thompson said results for the remainder of the year were "expected to remain challenged."
Challenges Bite Down on McDonald's Profits
McDonald's said global sales at restaurants open for at least 12 months rose 1% ,during the April to June second quarter, in line with analysts' expectations.
In the US, second-quarter same-restaurant sales rose 1%, missing the average analysts' prediction of a 1.5% increase.
In Europe, same-restaurant sales were down 0.1% in the second-quarter, a third successive quarterly decline.
In the Asia-Pacific, the Middle East and in Africa (APMEA), second-quarter sales fell 0.3%.
Analysts polled by Consensus Metrix had forecast declines of 0.1% in Europe and 0.2% in APMEA.
McDonald's second-quarter profit rose 3.7% to $1.40bn, or $1.38 a share (Figure 1). Revenue increased 2.4% to $7.08bn. Analysts polled by Thomson Reuters had predicted earnings of $1.40 a share on a revenue of $7.09bn.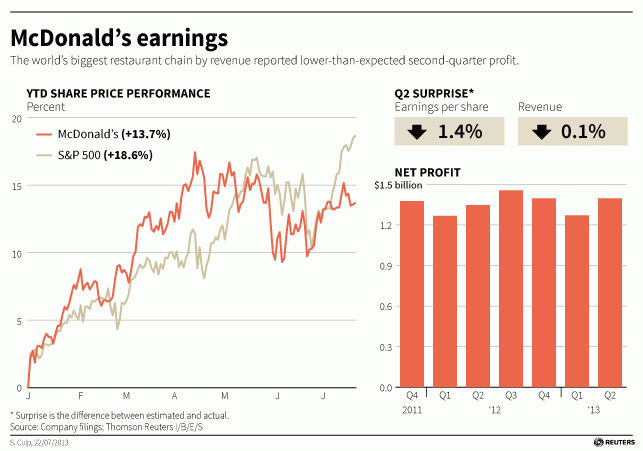 Fighting Off Competition
"While the informal eating out market remains challenging and economic uncertainty is pressuring consumer spending, we're continuing to differentiate the McDonald's experience by uniting consumer insights, innovation and execution." said Thompson.
McDonald's now offers late-night breakfasts, a new Dollar Menu, and is advertising vegetarian value-priced meals in markets such as India to attract more customers.
The company said a new line of Quarter Pounder hamburgers - including a bacon habanero ranch version - was selling well. It has rolled out an egg white version of its popular McMuffin breakfast sandwich and has gotten rid of slow movers such as Angus burgers and its Fruit & Walnut Salad, Reuters reported.
However, smaller US rivals such as Wendy's and Burger King are upping their game with bacon sundaes and limited-time offers.
Wendy's, known for its square hamburgers and thick Frosty shakes, recently introduced a Pretzel Bacon Cheeseburger that appears to be chain's best-selling new product in about 10 years.
Analysts polled by Consensus Metrix expect Wendy's to log a 1.1% gain in second-quarter sales.
McDonald's stock price finished 2.68% lower on Monday in New York, while Wendy's stock price ended 0.15% lower.
Nevertheless, Bill Smead, a portfolio manager at the Smead Value Fund in Seattle, who holds shares in McDonald's, is betting the iconic chain will profit from the fact that it is an "emotional and legal addiction."
"The company is in a normal down cycle. It benefited from the global recession that forced cash-strapped diners to trade down to McDonald's. It also got a big bump from profit-boosting new drinks like lattes and smoothies," Smead said.
© Copyright IBTimes 2023. All rights reserved.