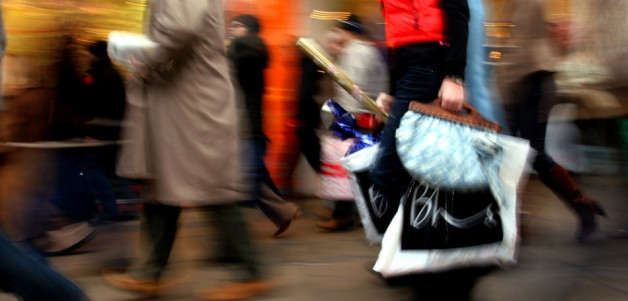 The growth in online shopping saved British retail sales from a decline in December but they remained lacklustre, adding to the concerns that the economy contracted in the last quarter of 2012.
The British Retail Consortium (BRC) said its monthly retail sales monitor showed a 0.3 percent increase in December same-store sales, which exclude sales from newly-opened or closed shops during the assessment period. Same-store sales rose 0.4% in November.
Total sales increased 1.5 percent on the year in December, as compared to a 1.8 percent increase in November.
The increase in overall sales for the month was on the back of strong online sales and late Christmas trade, according to the BRC. The sales of non-food items online rose 17.8 percent.
However, retail stores sold less in real terms, while taking into account the annual consumer price inflation currently running at 2.7 percent. The fact adds to the fears that Britain's economy slipped back into contraction in the last three months of 2012.
"Against the relentlessly tough economic backdrop and low expectations, these results are not a cause for celebration, but not a disaster either," said Helen Dickinson, the BRC's newly appointed director general.
"Total sales growth for December hasn't beaten inflation and is only on a par with December 2010, when severe weather put sales on ice for much of the month."
Retail sales, which play an important role in the UK's economic performance, slowed down for most of 2012, as consumers stalled their spending due to concerns about stagnant wage growth, high inflation and the ongoing austerity measures.
The lacklustre sales were in addition to a decline in the country's dominant services sector activity for the first time in two years in December, as indicated by a survey of purchasing managers released on Friday.
The weak figures have caused economists to expect a contraction in the fourth quarter, after the economy returned to growth in the third quarter following nine consecutive months of shrinking activity.
Contrary to this gloomy picture, a survey by the British Chambers of Commerce (BCC) found favourable economic conditions for the fourth quarter. The BCC rejected concerns that the economy is moving into a triple-dip recession, saying the country experienced a pickup in jobs, investment and activity in both the manufacturing and services sectors.
The official gross domestic product figures for the fourth quarter are set for release on 25 January.