It is the list no country wants to be at the bottom of — the most corrupt places in the world. Every year, the anti-corruption campaign group Transparency International publishes a Corruption Perceptions Index, ranking the best to worst countries.
Researchers use a number of different data sources to compile the index, which tries to quantify just how corrupt the public sector is in 176 countries, based on the perceptions of business people and experts on each state.
And in 2016's index, war-torn Somalia in eastern Africa comes bottom of the pile — for the 10th year in a row. Second-worst is South Sudan, also in east-central Africa, and behind it is North Korea, a closed Stalinist state.
Qatar was the biggest faller of the year, dropping to 31st place from 22nd, amid allegations of corruption surrounding its successful bid with Fifa - also mired in scandal - to host the 2022 World Cup.
"In too many countries, people are deprived of their most basic needs and go to bed hungry every night because of corruption, while the powerful and corrupt enjoy lavish lifestyles with impunity," said Jose Ugaz, chairman of Transparency International.
"We do not have the luxury of time. Corruption needs to be fought with urgency, so that the lives of people across the world improve...Only where there is freedom of expression, transparency in all political processes and strong democratic institutions, can civil society and the media hold those in power to account and corruption be fought successfully."
Top of the list, perceived to be the least corrupt place in the world, is Denmark in western Europe. Second-best is New Zealand in Oceania, and third place is Finland, also in western Europe. The UK is 10th place on the list following the former prime minister David Cameron's anti-corruption drive towards the end of his time in government. It also occupied 10th place in the 2015 index.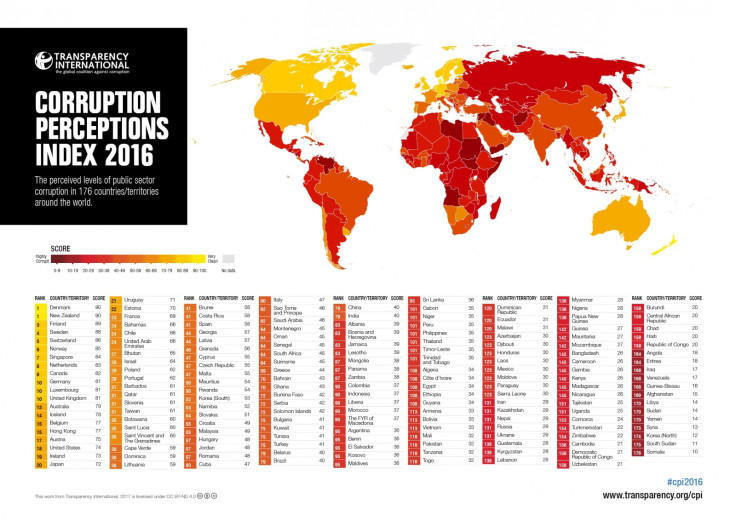 "The UK has rightly aimed to be amongst the top 10 in the global anti-corruption league table, but there is work to do to keep this ranking," said Robert Barrington, executive director Transparency International UK.
"The government promised to publish a national Anti-Corruption Strategy by the end of 2016, but this has yet to appear, and if the strategy is weak or further delayed, the UK will risk dropping out of the top-10. A strategy is both a signal of intent and a roadmap to fight the menace of corruption.
"Already, the uncertainty posed by Brexit has the potential to encourage a 'business at any cost' trade strategy; such an approach would be a disaster for UK's long-term reputation as a leading anti-corruption player.
"Brexit signalled disillusionment about politics and inequality; this must be addressed by the Anti-Corruption Strategy. The rise of populist strongman figures elsewhere should act as warning sign that we need to confront corruption within the UK and particularly within the political system."
Corruption Perceptions Index 2016 - the full rankings
| | | |
| --- | --- | --- |
| Rank | Country | CPI 2016 |
| 1 | New Zealand | 90 |
| 1 | Denmark | 90 |
| 3 | Finland | 89 |
| 4 | Sweden | 88 |
| 5 | Switzerland | 86 |
| 6 | Norway | 85 |
| 7 | Singapore | 84 |
| 8 | Netherlands | 83 |
| 9 | Canada | 82 |
| 10 | Germany | 81 |
| 10 | Luxembourg | 81 |
| 10 | United Kingdom | 81 |
| 13 | Australia | 79 |
| 14 | Iceland | 78 |
| 15 | Hong Kong | 77 |
| 15 | Belgium | 77 |
| 17 | Austria | 75 |
| 18 | The United States of America | 74 |
| 19 | Ireland | 73 |
| 20 | Japan | 72 |
| 21 | Uruguay | 71 |
| 22 | Estonia | 70 |
| 23 | France | 69 |
| 24 | Bahamas | 66 |
| 24 | Chile | 66 |
| 24 | United Arab Emirates | 66 |
| 27 | Bhutan | 65 |
| 28 | Israel | 64 |
| 29 | Poland | 62 |
| 29 | Portugal | 62 |
| 31 | Barbados | 61 |
| 31 | Taiwan | 61 |
| 31 | Qatar | 61 |
| 31 | Slovenia | 61 |
| 35 | Saint Lucia | 60 |
| 35 | Saint Vincent and The Grenadines | 60 |
| 35 | Botswana | 60 |
| 38 | Dominica | 59 |
| 38 | Cape Verde | 59 |
| 38 | Lithuania | 59 |
| 41 | Costa Rica | 58 |
| 41 | Brunei | 58 |
| 41 | Spain | 58 |
| 44 | Georgia | 57 |
| 44 | Latvia | 57 |
| 46 | Grenada | 56 |
| 47 | Cyprus | 55 |
| 47 | Czech Republic | 55 |
| 47 | Malta | 55 |
| 50 | Mauritius | 54 |
| 50 | Rwanda | 54 |
| 52 | Korea (South) | 53 |
| 53 | Namibia | 52 |
| 54 | Slovakia | 51 |
| 55 | Malaysia | 49 |
| 55 | Croatia | 49 |
| 57 | Jordan | 48 |
| 57 | Hungary | 48 |
| 57 | Romania | 48 |
| 60 | Cuba | 47 |
| 60 | Italy | 47 |
| 62 | Saudi Arabia | 46 |
| 62 | Sao Tome and Principe | 46 |
| 64 | Suriname | 45 |
| 64 | Montenegro | 45 |
| 64 | Oman | 45 |
| 64 | Senegal | 45 |
| 64 | South Africa | 45 |
| 69 | Greece | 44 |
| 70 | Bahrain | 43 |
| 70 | Ghana | 43 |
| 72 | Solomon Islands | 42 |
| 72 | Serbia | 42 |
| 72 | Burkina Faso | 42 |
| 75 | Turkey | 41 |
| 75 | Kuwait | 41 |
| 75 | Tunisia | 41 |
| 75 | Bulgaria | 41 |
| 79 | Brazil | 40 |
| 79 | China | 40 |
| 79 | India | 40 |
| 79 | Belarus | 40 |
| 83 | Jamaica | 39 |
| 83 | Albania | 39 |
| 83 | Bosnia and Herzegovina | 39 |
| 83 | Lesotho | 39 |
| 87 | Panama | 38 |
| 87 | Mongolia | 38 |
| 87 | Zambia | 38 |
| 90 | Colombia | 37 |
| 90 | Indonesia | 37 |
| 90 | The FYR of Macedonia | 37 |
| 90 | Morocco | 37 |
| 90 | Liberia | 37 |
| 95 | Argentina | 36 |
| 95 | El Salvador | 36 |
| 95 | Maldives | 36 |
| 95 | Sri Lanka | 36 |
| 95 | Kosovo | 36 |
| 95 | Benin | 36 |
| 101 | Peru | 35 |
| 101 | Trinidad and Tobago | 35 |
| 101 | Philippines | 35 |
| 101 | Thailand | 35 |
| 101 | Timor-Leste | 35 |
| 101 | Gabon | 35 |
| 101 | Niger | 35 |
| 108 | Guyana | 34 |
| 108 | Algeria | 34 |
| 108 | Egypt | 34 |
| 108 | Côte d'Ivoire | 34 |
| 108 | Ethiopia | 34 |
| 113 | Bolivia | 33 |
| 113 | Vietnam | 33 |
| 113 | Armenia | 33 |
| 116 | Pakistan | 32 |
| 116 | Mali | 32 |
| 116 | Tanzania | 32 |
| 116 | Togo | 32 |
| 120 | Dominican Republic | 31 |
| 120 | Ecuador | 31 |
| 120 | Malawi | 31 |
| 123 | Honduras | 30 |
| 123 | Mexico | 30 |
| 123 | Paraguay | 30 |
| 123 | Laos | 30 |
| 123 | Azerbaijan | 30 |
| 123 | Moldova | 30 |
| 123 | Djibouti | 30 |
| 123 | Sierra Leone | 30 |
| 131 | Nepal | 29 |
| 131 | Kazakhstan | 29 |
| 131 | Russia | 29 |
| 131 | Ukraine | 29 |
| 131 | Iran | 29 |
| 136 | Guatemala | 28 |
| 136 | Myanmar | 28 |
| 136 | Papua New Guinea | 28 |
| 136 | Kyrgyzstan | 28 |
| 136 | Lebanon | 28 |
| 136 | Nigeria | 28 |
| 142 | Guinea | 27 |
| 142 | Mauritania | 27 |
| 142 | Mozambique | 27 |
| 145 | Nicaragua | 26 |
| 145 | Bangladesh | 26 |
| 145 | Cameroon | 26 |
| 145 | Gambia | 26 |
| 145 | Kenya | 26 |
| 145 | Madagascar | 26 |
| 151 | Tajikistan | 25 |
| 151 | Uganda | 25 |
| 153 | Comoros | 24 |
| 154 | Turkmenistan | 22 |
| 154 | Zimbabwe | 22 |
| 156 | Cambodia | 21 |
| 156 | Uzbekistan | 21 |
| 156 | The Democratic Republic of Congo | 21 |
| 159 | Haiti | 20 |
| 159 | Burundi | 20 |
| 159 | Central African Republic | 20 |
| 159 | Chad | 20 |
| 159 | Republic of Congo | 20 |
| 164 | Angola | 18 |
| 164 | Eritrea | 18 |
| 166 | Venezuela | 17 |
| 166 | Iraq | 17 |
| 168 | Guinea-Bissau | 16 |
| 169 | Afghanistan | 15 |
| 170 | Libya | 14 |
| 170 | Yemen | 14 |
| 170 | Sudan | 14 |
| 173 | Syria | 13 |
| 174 | Korea (North) | 12 |
| 175 | South Sudan | 11 |
| 176 | Somalia | 10 |