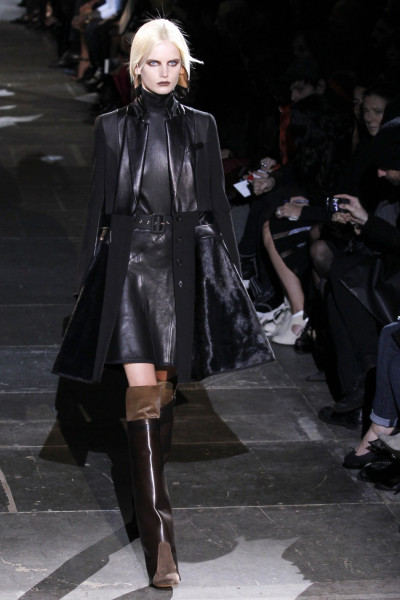 Italian fashion designer Riccardo Tisci presented an equestrian collection for luxury brand Givenchy complete with skintight leather looks and jodhpurs.
The fall/winter collection constituted a cool and confident blend of elegance and glam rock fashion. There were retro variations as well on creations like racing boots and riding jackets.
According to the Associated Press, in addition to black jodhpurs and sable brown shaped silhouettes, there was a sense of danger at all times with chokingly tight neck scarves, loud, troubling music, and even one skintight leather piece based on a sporting polo that looked like bondage gear.
The collection was also accessorised with oversized earrings like horse-blinders to give the rock chic look.
Apart from Tisci's usual "obsession" with the black shade, for the current show he also opted for vibrant shades like red, pink and blues. Low slip dresses in different colour palettes with clashing belts also gave a 1970s look to the collection.
Named the Creative Director for Givenchy womenswear and haute couture in the year 2005, Tisci's apparent fascination with Gothic touches and space-age minimalism has drawn new attention to the Givenchy brand.
"My way of showing is very melancholic... I love romanticism and sensuality," Tisci said about his collections.
It was Tisci, under Givenchy who designed the costumes for Madonna's "Sticky & Sweet" tour in 2008, following Jean Paul Gaultier and Dolce & Gabbana.
Some of the star powers present at the present collection during the Paris Fashion show were P. Diddy and Alicia Keys.
Start the slideshow to get a glimpse of Riccardo Tisci's Equestrian Collection for Givenchy: