Richard Jones has become the first ever magician to win Britain's Got Talent. The 25-year-old army bandsman won over the judges and the British public as he performed a card trick, while telling the emotional story of a 97-year-old war veteran.
As his name was announced Jones looked visibly shocked. "It's unbelievable," he said. "Thank you so much to everyone who voted. I want to thank my family, the Magic circle. Everyone's been so supportive. It's been an amazing experience to spend so much time with such talented people. "
After months of auditions the contestants were whittled down to the final twelve acts, comprising the usual eclectic mix of performers including a sword swallower, a magician, dancing Stormtroopers, an impressionist, a gospel choir and of course the pre-requisite dancing dog act.
In the end the battle to win the TV talent contest and a place on the Royal Variety Show fell between Jobs and east end crooner William Woodwards. Coming in second place, the talented singer was gracious in defeat as his expressed his gratitude for the opportunity to perform on the BGT stage. "Thank you so much. It's been an amazing experience," he explained. "And I've met so many amazing people. Thank you so much. .. and I hope you see a lot more of me."
Simon Cowell's golden buzzer act Boogie Storm, who he had described as his favourite act in the history of the talent show, came in third, despite being hotly tipped to win. "To get top three in this competition you did incredible," he said.
Public favourite Jasmine Elcock came in fourth, followed by Beau Dermott, Craig Ball, Trip Hazard, 100 Voices of Gospel, Alex Magala, Balance Unity, Shannon and Peter and Mel and Jamie.
But it was clearly Richard's night after he recounted the story of Fergus Anckorn a prisoner- of-war dubbed 'the conjuror of the River Kwai' whose magic tricks helped him distract the Japanese Guards on the Burma railway.
In the poignant story, Jones said it was Anckorn who had inspired him to become a magician. "I love my job in the army but I think my destiny has always been magic," he explained.
"Oh my goodness, Richard - that was so incredible, poignant, noble, brilliantly British - I just loved everything about that," said an impressed Alesha Dixon, summing up the sentiments of the watching audience.
"It was brilliant do to military-themed magic. I've never seen that before," David Walliams said. "Also it was just so emotional. We all had tears in our eyes, we've never felt that before."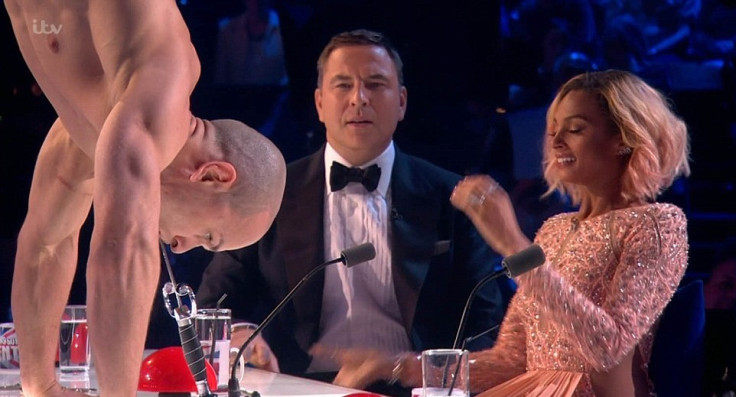 "I found that so emotional," Amanda Holden admitted. "How you can tell that story while doing all that with your hands..! And it was such a pleasure to meet Fergus. My grandmother is 95 and single if you want to meet in the bar afterwards," she jokingly added.
"What a respectful, appropriate time to do something like that," Cowell continued.
Moldovan daredevil Alex Magala had the judges on the edge of their seats as he upped the ante in a stomach-churning stunt that saw him hurtle down a pole towards a live chainsaw.
If that wasn't enough, he performed handstands on the judge's desk while swallowing a sword which he then prompted Amanda Holden to pull out of his throat. Indeed, so dangerous was the death-defying act that it had to be pre-recorded for the show.
"You have serious issues", said a shocked Cowell. "I've never seen anything like it. You pulled off the biggest trick - or the scariest thing yet - for the final."
While Alex certainly made an impact on the show, his act was quite possibly deemed too terrifying to be performed before the Queen. Instead as well as scooping the £250k cash prize Richard Jones will have the honour of performing for her Majesty at this year's Royal Variety Performance.
Meanwhile, the show recalled some of its earlier success stories, as it celebrated ten years of Britain's Got Talent. Revisiting the stage in an enthralling medley of performances were previous winners including Diversity, Paul Potts and George Sampson.