The 'Wake Up' protest at an Apple Store last week has turned out to be a marketing stunt from RIM that will lead to an announcement about what 'being in business' means on 7 May.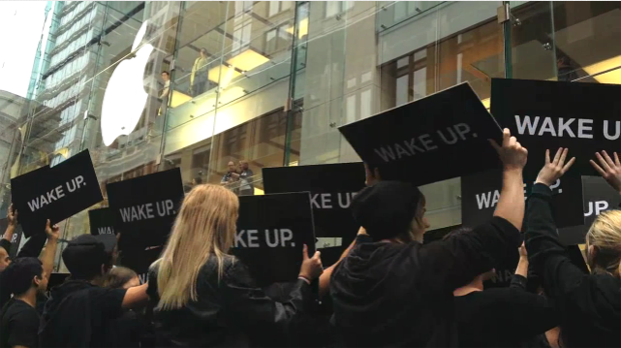 BlackBerry maker Research in Motion (RIM) was responsible for a flash mob descending on Apple's Sydney store last week, which saw dozens of mock protesters shouting "wake up" at the computing giant.
Wearing black and holding up signs saying "Wake Up", the flash mob was joined by a black bus displaying the same message; they shouted through a megaphone at bemused Apple staff and customers, before taking their protest down the road.
At first it was believed that Samsung had organised the bizarre protest - with the Korean rival likening iPhone users to sheep in its Galaxy S3 teaser, and poking fun at queuing Apple fans in various TV ads - but it was in fact RIM who was responsible.
The Canadian BlackBerry maker was found out after source code of the related Wake Up website contained a Doubleclick account pointing to RIM's Australian website.
The company later owned up with a statement to IBTimes UK: "We can confirm that the Australian 'Wake Up' campaign, which involves a series of experiential activities taking place across Sydney and Melbourne, was created by RIM Australia.
"A reveal will take place on May 7th that will aim to provoke conversation on what 'being in business' means to Australians."
Local blogger Nate 'Blunty' Burr filmed the event, below, but RIM has denied that it paid him to record the protest, according to The Verge.
Other than that vague explanation, nothing else is known about RIM's intentions, or what it plans to reveal on 7 May. The BlackBerry World conference is taking place at the moment in Florida and runs until 3 May, with a keynote due to take place on Tuesday evening, but there's no indication that the 'Wake Up' campaign will even be mentioned.
Some people are speculating that BlackBerry 10, formerly known as BBX, the company's next generation operating system based on QNX platform, will be unveiled, but this is likely not to happen until later in the year.
Technology analyst Michael Gartenberg told IBTimes UK that he hopes "there's more than a passing reference" to BlackBerry 10 during the keynote, due to start at 2pm BST.