It might look like a bunch of adult nerds playing with small model aircraft, but drone racing is quickly becoming a legitimate sport that should be taken seriously.
In 2017, the hobby, formally known as First Person View (FPV) drone racing, now has its own international league with established rules and a professional circuit.
The Drone Racing League has secured a score of sponsorship, investment and partnership deals to expand the competition to countries outside the US, and starting this week the competitions will be broadcast on sports channels in 75 countries.
This year's tournament consists of six races held in four US cities: Miami, Boston, New Orleans and Atlanta, as well as one race each held in Munich, Germany, and London. The final race was filmed live in front of an audience at Alexandra Palace on 13 June, and IBTimes UK got to take a behind the scenes look at just how a drone racing championship is run.
From a geeky hobby to an actual sport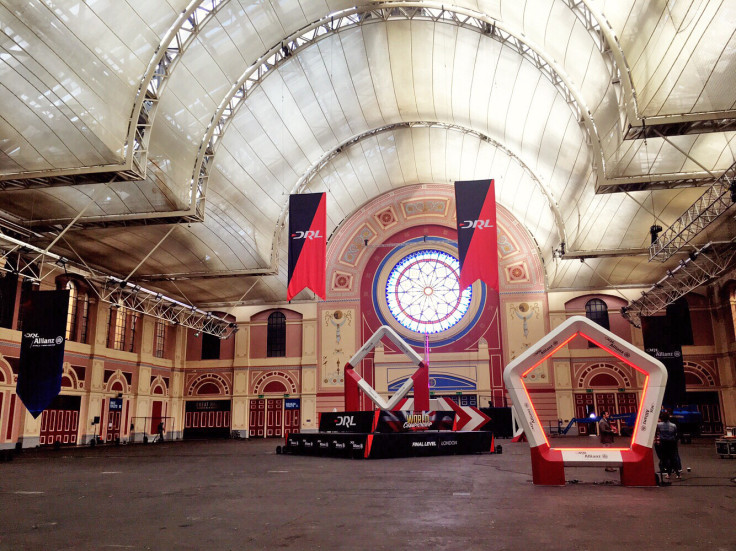 Drone racing's origins are rooted in the internet – it all started with pockets of drone enthusiasts around the world seeking to build and fly their own drones, after the laws governing unmanned aerial vehicles (UAV) weighing less than 20kg were relaxed.
The drones had to be fast if they were going to be used for racing, which meant they needed to be much smaller and lighter than the sturdy camera-equipped consumer drones. In the end, people started to build their own from parts they ordered on the internet.
They wrote tutorials and posted them on forums and blogs, teaching others which wires, circuit boards, motors, rotors and batteries to buy, and how to assemble them. Slowly, communities began to form over the internet. They then sought to meet in person to practice racing drones in fields, forests and abandoned buildings, before regional races and competitions were set up.
Many of the earliest adopters had backgrounds in technology, engineering, computing and science, and these skills are still considered to be a bonus in the sport, as a lot of technical know-how is often needed to repair the drones, which can break in an instant the moment you start to race.
"When you look drone racing as a community, you find that there's a pretty high barrier to entry. There's knowledge, there's money, there's passion. It's frustrating – when you spend 10 hours building your brand new drone and you take it out and immediately smash it into a tree, that sucks. It takes perseverance to push through that," Paul Nurkkala, 25, from Indianapolis, Indiana tells IBTimes UK.
"You weed away the chaff and what you have left is a passionate group of individuals, and you all become fast friends just instantly. These pilots I'm racing with today are some of my closest friends even though we live apart, across the country or across the world."
An international drone racing league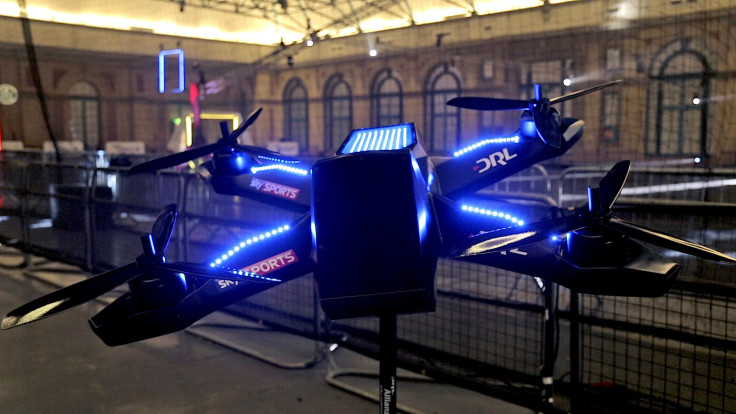 The sport might still be quite niche, but efforts are being made to expand it to wider consumer audiences and to help people who are not so technically inclined, but for example have excellent hand-eye coordination and typically excel in racing video games.
It's also not proved too difficult to get the masses interested, as the general public is already fascinated by drones from what they've seen in the media, to the gadgets being sold to prosumers in high end electronics shops like the Apple Store, all the way down to the small plastic UAVs being sold in toy stores.
Burgeoning excitement about drone racing and a host of new investors and sponsors like Sky, Liberty Media Corporation (the owner of Formula One racing), Allianz and World Wrestling Entertainment (WWE) means DRL can now afford to run a professional league whereby pilots from around the world can qualify to join.
The pilots that make it to the league are offered an undisclosed amount of compensation for flying in the races throughout the season of the world championship, with an additional six-figure cash prize for the overall winner. It's not enough for the pilots to be able to quit their jobs entirely, but it is still a far cry from the old days, when enthusiasts had to travel long distances to meet up with friends made over the internet to race in a field.
"This is probably one of my lifetime opportunities to be one of the best at something. I'm a professional computer programmer. I will never be the best programmer in the world, that's done and gone, there's no chance," says Nurkkala, whose racer nickname is "Nurk".
"Drone racing is a chance for me to be an influencer. While yes, the result is that I'm flying with a toy, but I'm approaching this, 'how do I become one of the best?', 'how do I help create content that helps others enjoy this community'."
From what we've heard from DRL, its pilots and drone enthusiasts on social media, the latest professional racing circuit set up by DRL in Alexandra Palace is possibly the nicest and certainly the most challenging that has ever been seen in the sport.
So what's next?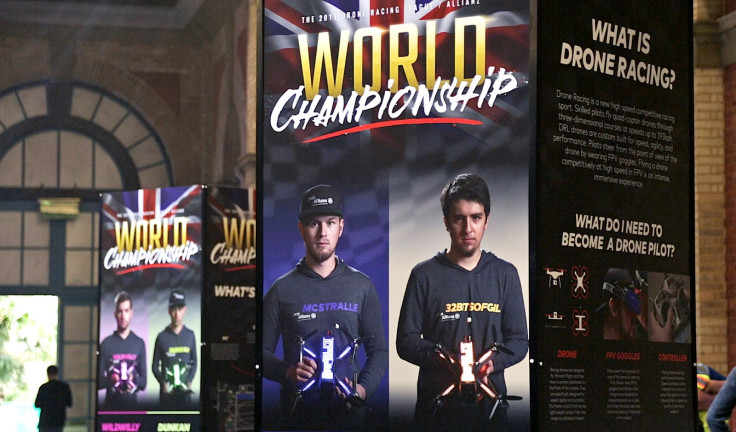 This summer, audiences in 75 countries will be able to watch high-definition video coverage of the drone racing world championship on their TVs, complete with commentators explaining how the sport works and breaking down the many intricate manoeuvres and mistakes that can occur in just a few split seconds during the race.
The league has been promoting its racers in the hope that they will garner their own fan followings in the way key athletes in other sports make waves, but it doesn't stop there.
"Our deal with Amazon's Grand Tour is both content collaboration and sponsorship. We're not just slapping each other's logos on content, we're working together to develop content together," DRL's founder and chief executive Nicholas Horbaczewski tells IBTimes UK.
"I don't want to give away all the secrets. There's going to be some very cool things involving the folks on Grand Tour and drones...later this summer and into the fall you'll be seeing more content from us."