Rita Ora is set to be in the next two instalments of the film adaptations of the Fifty Shades franchise, reprising her role as Christian Grey's younger sister, Mia.
The 24-year-old was revealed to have secured the deal after private Sony emails were released on WikiLeaks between ex-Sony CEO Amy Pascal and Ora's US agent Franklin Latt.
The email that shone light on Ora's involvement read: "Rita will appear in Universal's upcoming Fifty Shades of Grey playing Mia Grey and will star in the next two instalments of the movie."
The conversations were made public last week following on from a hugely successful cyber-hack launched on Sony last year.
Her part in the first movie only consisted of four lines and amounted to a total screen time of just 90 seconds, but if the books are anything to go by, Ora will have more scenes as Mia across both Fifty Shades Darker and Fifty Shades Freed.
The Rimmel model wasn't fazed by the size of her part however, saying to OK! magazine last year: "For me this was such a great cameo to be involved in, and even though I'm only in it for a little bit, it's opened the door to a lot of movie things that I haven't actually announced yet."
The Hot Right Now singer is not secret about the fact that she'd like to continue working in Hollywood, admitting she has "the bug, for real". "Fifty Shades was a moment of cameo and a really good wake-up call," she added.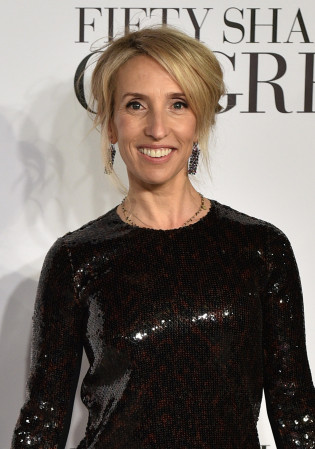 Ora's urge to keep acting was emphasised further by another email from Latt to Pascal which read: "Excited for you to meet Rita Ora tomorrow. We all sat with her today and she's an incredible spark. Having just worked with Sam Taylor Wood [now Taylor-Johnson] and Antoine Fuqua, she'd love to continue working with great artists and find strong female characters along the way."
Despite The Voice judge's keenness to pursue an acting career, her willingness to be further involved with the series could be in question after director Sam Taylor-Johnson openly had a falling out with writer of the book E.L. James over artistic directions taken when bringing the story to the big screen. She then went on to pull out of further involvement with the franchise.
Taylor-Johnson admitted that the two women hardly ever saw eye-to-eye and that they had two completely different visions in what they saw the story to be. "It was difficult, I'm not going to lie," said Taylor-Johnson. "We would have proper on-set barneys and I'm not confrontational."
A source close to Ora spoke out about the Sony emails, commenting: "This is obviously pre-Sam leaving, but Rita's dream is to have a career as a Hollywood actress so is hoping it still happens."