Roberto Martinez has the character to thrive as Liverpool manager should the Spaniard succeed Kenny Dalglish at Anfield, according to club favourite Mark Wright.
Wright, who made 210 appearances for The Reds during a seven-year career on Merseyside, managed Martinez during his spell as manager of Chester City.
With a limited managerial career, having only taken charge of Swansea City and Wigan Athletic, questions remain about the 38-year-old's big-club temperament, but Wright has no such fears.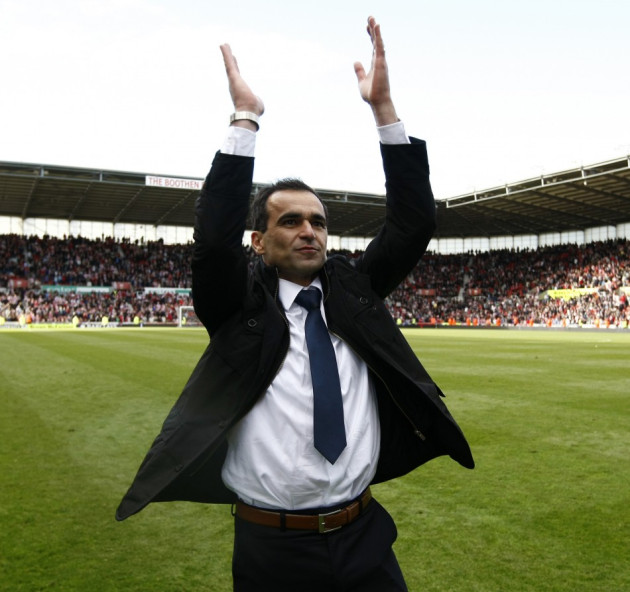 "I've got no doubt that given time Roberto would succeed at Anfield," he told the Liverpool Echo.
"He would do things the right way. It would be the type of football fans want to see. He's not defensively minded, he would sign players with pace and flair. That's the way he's been brought up.
"What I can assure you is that Roberto is a strong character. He knows how to conduct himself in front of the media. Of course he hasn't been at a big club like Liverpool before but I don't think that would faze him.
"I don't know what way the owners are going to go. But if they decide to appoint an experienced director of football with a younger manager working under him then I could understand that.
"They are obviously speaking to other managers as well. Brendan Rodgers must be in with a shout after what he's done at Swansea and Paul Lambert at Norwich is another up and coming young manager.
"But I can't speak highly enough of Roberto. If they decide he's the right man then fantastic. I certainly think he has got the credentials and the character."
During spells at Swansea and Wigan, Martinez built a reputation for a passing brand of football which earned him promotion from League One while at the Liberty Stadium in 2008, while in the Premier League, he has retained The Latics' top flight status for three successive seasons since taking over.
However, with Roy Hodgson having suffered, despite his impressive credentials, under the pressure at Liverpool, amid supporter clamour for Dalglish's return as manager, Martinez is likely to be scrutinised from the start of his tenure.
Wright believes the former Chester midfielder has the leadership qualities to stamp his mark on a Liverpool side who finished eighth in last season's Premier League.
"As soon as I met him it was clear that he was a leader and I made him my captain," he added. "He was just great to have around - always talking with the players and helping to motivate them.
"He's one of the nicest people I've ever come across and he knows his football inside out.
"I knew he would be management material. He always wanted to play in the correct manner and he knows how to handle people."