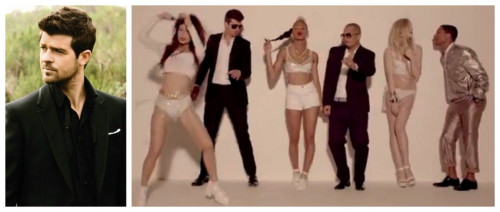 A play based on Robin Thicke's controversial hit song Blurred Lines is set to open in London's West End.
The production, created by Nick Payne and Carrie Cracknell, two rising stars of the theatre world, is named after the summer smash and is described as a "blistering journey through contemporary gender politics".
Its tagline reads: "We need a revolution. Big or small, quiet or loud, it doesn't matter."
Director Crackwell said she wanted to tackle the issues raised by the raunchy song and its provocative video.
"There is an absolute line about sexual consent that cannot be blurred. The rage I feel in relation to that song is about the idea of strong men, fully dressed, animalising and brutalising a group of scantily clad women," she told the Guardian.
"Of course sex is part of our life, but rape is not sex, and non-consensual sex for young women is a massive problem. A whole generation are growing up with their first sexual experiences being pornography, which is hateful and misogynistic, and this song is the tip of that iceberg," she added.
Blurred lines, which was a collaborative effort between Thicke, Pharrell Williams and rapper TI, spent five weeks at No 1 and 30 weeks in the UK chart in total.
Despite its success, it faced fierce criticism from women's rights campaigners who accused it of degrading women and condoning rape. The accompanying video, which featured topless models draping themselves over the fully clothed male artists, was banned by YouTube.
At the height of the controversy, it earned Thicke the Sexist of the Year title from the End Violence Against Women Coalition and over 20 university unions banned the track as part of its "End Rape Culture and Lad Banter on Campus" policy.
Thicke defended the song. "It's supposed to stir conversation, it's supposed to make us talk about what's important and what the relationship between men and women is, but if you listen to the lyrics it says 'That man is not your maker'," he said.
"It's actually a feminist movement within itself,"
Blurred Lines opens at the National Theatre's The Shed venue on 16 January.