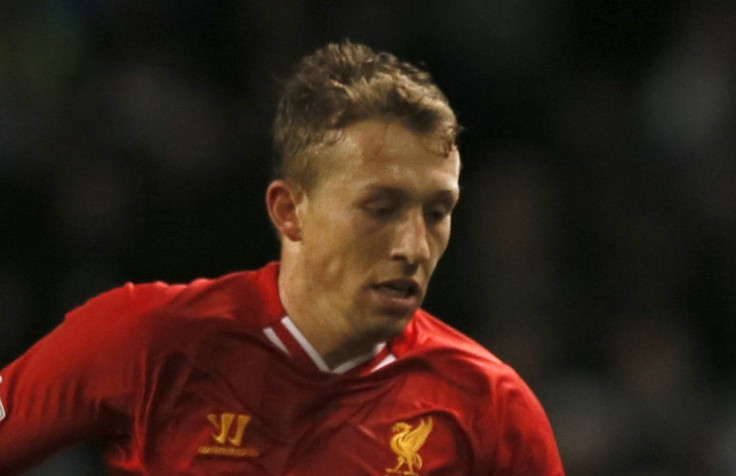 Brendan Rodgers has insisted that Lucas Leiva will not be leaving Liverpool on loan this season despite reports claiming otherwise.
Leiva has two years remaining on his contract with the Reds and having been left out of Rodgers' starting line-up on a number of occasions he's believed to be considering a move to secure more minutes.
Inter Milan coach Roberto Mancini has reportedly made his interest in the star midfielder known but Rodgers insisted as Liverpool took on Sunderland that the Brazil international will stay at Anfield until at least the summer.
"There will be no loan deal for Lucas," he said, according to BBC Sport. "We have had nothing as of yet in writing. I have spoken to him. He has been a player who has been in the team so we will look to keep him."
Liverpool have struggled to maintain their winning ways this season with the club currently sitting in eighth place in the table. Their win over Sunderland was a sign of better things to come in 2015 though as they look to build and challenge for a Champions League spot by May.
And while Rodgers admitted the win against relegation-battlers Sunderland was an important one, he argued that the club needs to build on making their domination in games count as they look ahead to an away fixture against Aston Villa and facing title favourites Chelsea at home.
"Our only disappointment against Sunderland was we didn't have the extra goals to show for our domination," the manager explained. "We had real good control of the game.
"It was important for us today, we had real good solidity. A 1-0 victory was very convincing for us today against a good side.
"Losing the man probably threw us a little more than them. We had a 10-minute spell after that where we didn't keep the ball well enough but then regained the control of the game.
"It was a really good team performance and very pleasing. Steven Gerrard just felt a bit tight in his hamstring. He has played a lot of games.
"He was outstanding in the first half. We don't need to risk it as we have got a big second half of the season coming up and he is very important for us."