Last month, S&P's Ratings Services raised its long-term and short-term corporate credit ratings of Rolls-Royce Plc to 'A/A-1' from 'A-/A-2' and said the group's outlook is stable. The rating was upgraded after the strong operating, financial performance and stable cash flow generation by British aerospace group.
"We estimate that Rolls-Royce's earnings will increase at a low-double-digit annual rate over the next two to three years, based on our expectation of positive trends in most of the group's markets and its leaner cost base following an extensive restructuring in previous years. We anticipate that the group will maintain an operating margin of about 11 percent before financing costs and taxes, in line with past levels," said S&P's Ratings Services.

On Tuesday, the global power systems company announced that it has been awarded a contract worth of $315 mln by Pratt & Whitney to supply the Rolls-Royce LiftSystem for 17 F-35B Lightning II aircraft. The group is scheduled to release its interim management statement on Friday.
"Rolls-Royce continues to focus on increasing efficiency as we provide this vital capability to the F-35 Lightning II Joint Strike Fighter programme. We anticipate continuous cost improvements as production volumes ramp up to meet the needs of the F-35 programme," said Rolls-Royce LiftSystem Programme Director Neil Mehta.
Driven by continued demand from airlines for more fuel-efficient planes, the group's underlying revenue increased by 4 percent to £11.3 bln for the full year 2011 including a 9 percent growth in services revenue to £6.0 bln. Pre-tax profit stood at £1.16 billion and profit earnings per share increased 25 percent to 48.54 pence.
"Any disappointment after the results likely surrounds the Marine business, where Rolls-Royce said it was experiencing pricing pressure, words which analysts 'hate to hear'. Pricing pressure is one of those things that when you're in a negative pricing momentum environment, and the customers are beating you down all the time, and competitors get into it, you get into a vicious cycle," said Edward Stacey, Analyst at Espirito Santo Investment.
The results were also benefited by its acquisition of German enginemaker Tognum last year and the £950 mln sale of its stake in International Aero Engines.
"Overall, a solid result in our view, with the prospect of continued long-term growth underpinned by the order book, growing aftermarket sales and contribution from Tognum," commented Andrew Gollan, Analyst at Investec.
Looking ahead, Rolls-Royce is positive on civil aerospace given the airlines' capacity growth and their need to reduce the fuel bill. The group is expected to form a new joint venture with competitor Pratt & Whitney to develop the next generation of engines for the mid-sized narrowbody market.
For 2012 the group expects good growth in both underlying revenue and profit with cash flow around breakeven as it continues to invest in future growth. Rolls-Royce's order book gives it good visibility of future revenues.
Below is a summary of sector comparisons in terms of price earnings, earnings per share, dividend per share, dividend yields, return on equity and price-to-book ratio. The table explains how the company is performing against its peers/competitors in the sector. The table below represents top ten companies based on market capitalisation.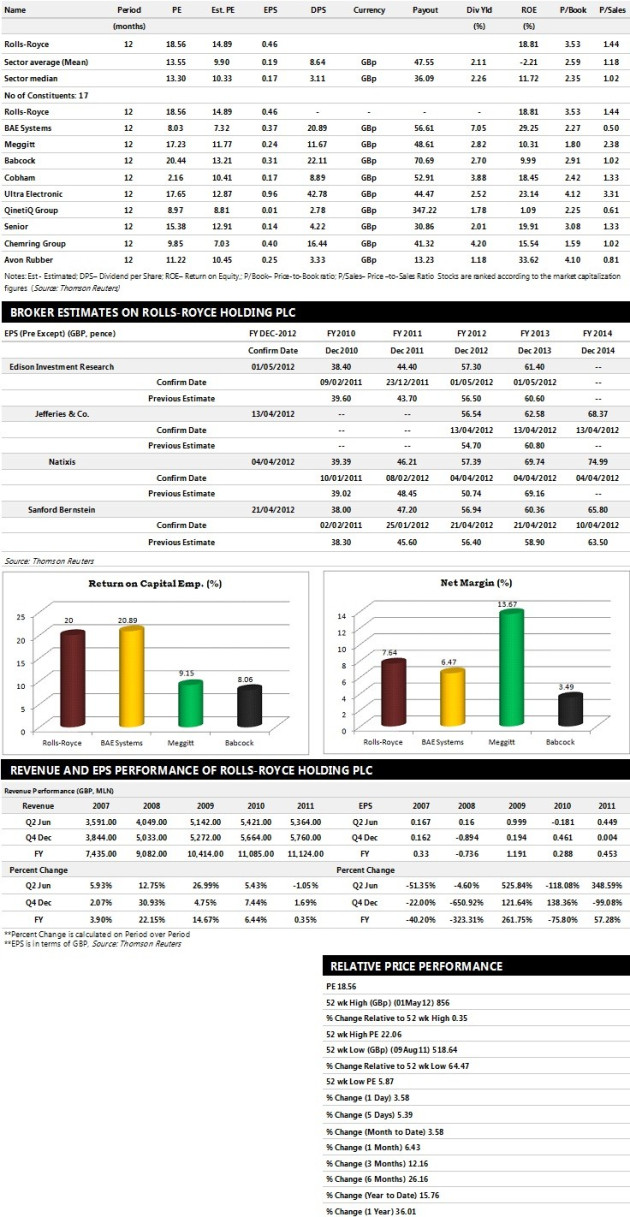 Brokers' Views:

- Sanford Bernstein gives 'Hold' rating
- Jefferies & Co assigns 'Buy' rating with a target price of 950 pence per share
- Natixis recommends 'Hold' rating
- Arden Partners assigns 'Outperform' rating
Earnings Outlook:

- Edison Investment Research estimates the company to report revenues of £13,167 million and £15,210 million for the FY 2012 and FY 2013 respectively with pre-tax profits (pre-except) of £1,474 million and £1,659 million. Earnings per share are projected at 57.30 pence for FY 2012 and 61.40 pence for FY 2013.
- Sanford Bernstein projects the company to record revenues of £13,474 million for the FY 2012 and £16,052 million for the FY 2013 with pre-tax profits (pre-except) of £1,445 million and £1,671 million respectively. Profit per share is estimated at 56.94 pence and 60.36 pence for the same periods.
- Jefferies & Co expects Rolls Royce to earn revenues of £13,199 million for the FY 2012 and £15,456 million for the FY 2013 with pre-tax profits of £1,495 million and £1,735 million respectively. EPS is projected at 56.54 pence for FY 2012 and 62.58 pence for FY 2013.