Protests are continuing in Romania, despite the repeal of a controversial decree that would have legalised corruption. Some of them are demanding the resignation of the government.
Following week-long rallies against the ruling Social Democrats, nearly half a million protesters gathered in the Romanian capital Bucharest on Sunday, 5 February, as the country witnessed the biggest demonstration since the fall of dictator Nicolae Ceausescu in 1989.
The anti-government campaigners are angry over Prime Minister Sorin Grindeanu's plan to table a revised version of the bill in parliament, where the centre-left ruling party holds a majority along with its junior coalition partner.
Protests erupted in Romania last week after the government announced its plan to decriminalise abuse of power up to 200,000 lei ($48,000; £38,440) – a step which would have shielded many politicians from corruption charges. After a series of rallies, the government caved in promising to withdraw the measure which was fulfilled on Sunday. The decree was meant to come into force on 10 February.
In another touchy decree, which needs parliamentary approval, the government aims to release up to 2,500 inmates who have served less than five years from prison. The government argues that the move is aimed at easing the pressure on overcrowded prisons.
"This government is organised from the high level to the low like a mafia, and we don't want something like this," one protester was quoted as saying by the BBC.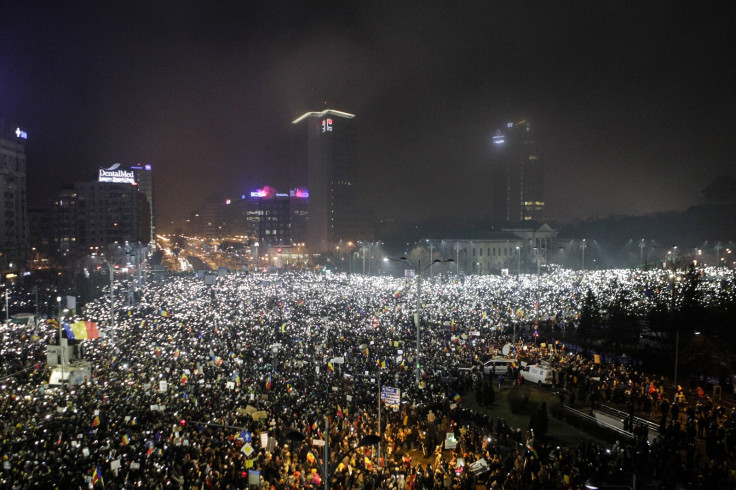 Another protester, a teacher named Alexandru from Bucharest, said: "It's not about one decree, it's about a way of doing politics. Seriously, we're tired of the same old things. We're gathered here all together, to change not this council of politics [government], it's about the people, not about a small amount of guys making laws for their benefit. That's it."
However, Grindeanu, who took over just a month ago, showed no signs of stepping down insisting he has a moral duty to "the people who voted for us". President Klaus Iohannis is expected to make a statement later on Monday, 6 February.