Cristiano Ronaldo and Lionel Messi's goal scoring tyranny is under threat in Spain's La Liga. The duo have shared the award for most goals in the last six years (three times the Argentinian, three times the Portuguese), scoring a total of 457 goals between them in that period. They are out of this world figures and it will take years or maybe centuries until two players can provide such a return in such a short space of time. However, something is changing; right now there are many candidates to win the Trofeo Pichichi award for the league's most potent goal scorer.
Almost all of these "revolutionary forwards" play for modest clubs. That is obvious not the case for Neymar, Barcelona's forward who is shining in the absence of Messi, who is recovering from a muscular injury. No one has scored more goals than him so far in Spain having notched nine in 10 games. However, what the press and supporters have underlined in these first two months of the season is how comfortable the 23-year-old Brazilian feels on the pitch, leading Barcelona's attack and showing that Los Blaugranas are much more than a one-man team. Besides that, Luis Suárez has scored eight goals in his first 10 games of competition, and both are the main reason why Barcelona have maintained pace with Real Madrid at the top of the league.
Anyway, the so called "Spanish forward revolution" is guided by the more modest veterans in the league. Amongst the galaxy of expensively acquired striking talent that has adorned La Liga in recent years, there is an anomaly among them in Imanol Agirretxe, David Moyes' saviour at Real Sociedad - even though the Scot can be sacked next week if The Basques do not win at Las Palmas.
Aged 28, Agirretxe is a technically gifted player who emerged from Antiguoko, the Basque academy in which Xabi Alonso, Mikel Arteta, Andoni Iraola and Javi De Pedro developed with before signing for a professional club. So far, he has scored eight goals, form that has caught him mainstream attention across Europe with little indication that there is a way of stopping him. In a way, he is the classic British striker, powerful in aerial duels and lethal in front of the goalkeeper. In the age of mobile, versatile front men and false nines, Agirretxe represents a dying breed, offering Moyes' side a more direct outlet of play. However, he has the technical resources to be a perfect modern day frontman as well. Vicente del Bosque admitted he is following him some months ago and it would not be a surprise if he is imminently handed a La Roja debut.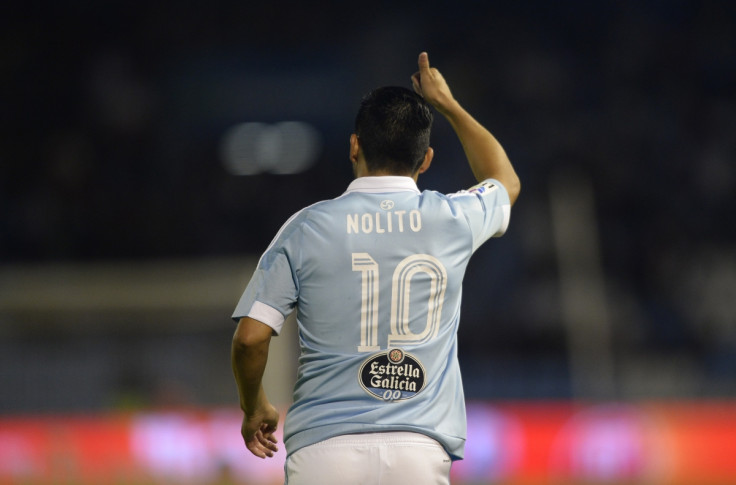 Another 28-year-old striker is threatening Ronaldo's and Messi's reign. He is called Nolito and Arsenal and Barcelona keeping an eye on him, with both clubs keen to sign him in the January transfer window, according to Diario Sport. Nolito emerged from Barcelona's youth academy but has needed some seasons to show all his skills, but now he is on fire, having scored seven goals in 10 games. He is the main reason why Celta are just three points behind Barcelona and Real Madrid. Nolito has a wonderful shot with either his left or right foot. He is able to move laterally at an incredible speed, which is why he can dart inside flat footed from left to right so easily and dribble past defenders. He is not a selfish player and his partners in Celta's attack, Fabián Orellana and Iago Aspas, know this well.
Aspas, aged 28 as well, played for Liverpool two seasons ago but he did not have much luck, stuck firmly behind Luis Suárez and Daniel Sturridge who were scoring week in week out to limit his first team chances to a couple of minutes. He has scored six goals this season for a modest side like Celta - Ronaldo meanwhile has scored eight having featured in every minute so far - and he has recovered his confidence. Unless he suffers an unexpected setback, he will continue with his prolific statistics.
It has been a surprise to see veteran players scoring as many goals as Ronaldo, but the most impressive case is that of Aritz Aduriz. Aged 34, he has scored more goals as a professional player after his 30th birthday than all the years before. He is the best La Liga has to offer when it comes to headers; a constant aerial threat using his body perfectly to avoid defenders' pressure and has so far been rewarded with seven goals. Let's not forget also he scored four in Athletic de Bilbao's triumph against Barcelona in the Spanish Super Cup. If we include his stats form this season's Europa League campaign, he has scored 14 goals in 16 games. Impressive. Vicente del Bosque should call him up soon.
Borja Bastón (Eibar, 23, six goals), Javi Guerra (Rayo Vallecano, 33, six goals) and Lucas Pérez (Deportivo de la Coruña, 27, six goals) complete the list of unexpected hits this season. Will they manage to rein in Ronaldo and Messi's tally by the end of the season? It is difficult to predict, mainly because they will need to keep hitting this level before Messi recovers from his muscular injury. But something is changing in Spanish football... a little revolution guided by veteran warriors.