The Philae comet lander was able to "sniff" the building blocks of life on Comet 67P before its batteries died at the weekend, scientists have confirmed.
Philae was able to analyse the carbon element that is the basis of life on Earth before the battery ran out, however it is not yet clear if the compounds that make up proteins, Reuters reports.
The onboard gas analysing instrument detected the first organic molecules after first landing on the comet. Philae also drilled into the surface of the comet, but it is unclear if a sample has been delivered to scientists for analysis yet.
Philae's Multi-Purpose Sensors for Surface and Subsurface Science instrument package (MUPUS), began observing the environment as soon as Philae was released from the Rosetta orbiter.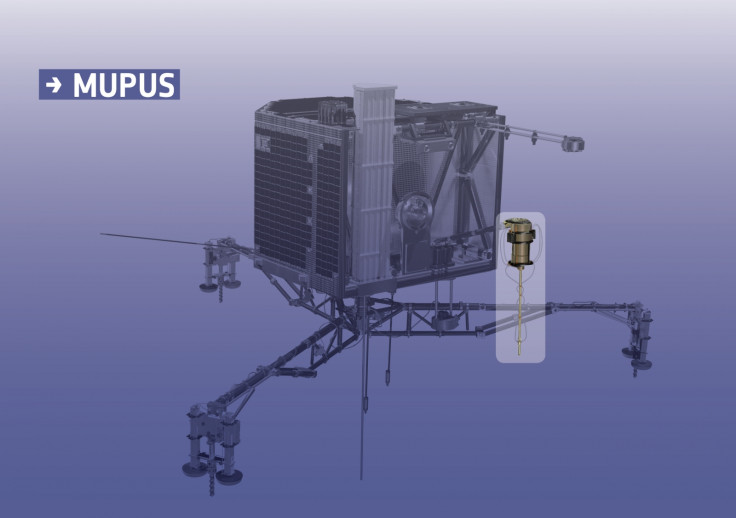 "Because part of the MUPUS package was contained in the harpoons, some temperature and accelerometer data could not be gathered," ESA said in a blog post. "However, the MUPUS thermal mapper, located on the body of the lander, worked throughout the descent and during all three touchdowns."
Tilman Spohn, principal investigator for MUPUS, said they believe the probe encountered a hard surface comparable to solid ice when it began drilling.
Preliminary results show the comet's surface is covered in a 20cm layer of dust, which overlays strong ice or ice dust mixtures. Deeper below the surface, they believe the comet becomes more porous.
Commenting on Philae's hibernation, Spohn said: "MUPUS could be used again if we get enough power. Then we could perform direct observations of the layer that the probe is standing in and see how it evolves as we get closer to the Sun."