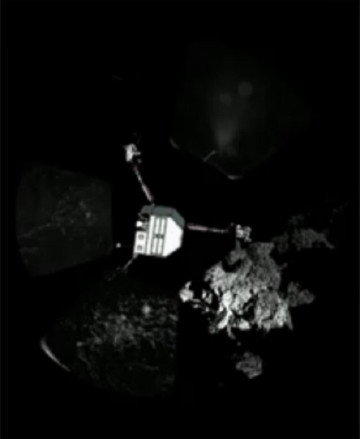 Philae has sent the first panoramic image back to Earth after landing on comet 67P, as scientists work to establish the lander's exact location.
At a media briefing from the ESA, Stephan Ulamec, Philae project manager, said it is still not clear where the lander is, but they now understand what happened when it landed.
"We have a better understanding now of how we got there, but we still don't know where. We landed three times. We came in about 1m per second, then rebounded probably up to about 1km. We know very well where we touched down the first time."
From the images provided, it appears Philae is in the shadow of a cliff. Scientists have confirmed the lander is "almost vertical", with one foot off the ground and the other two on the surface – contrary to earlier reports it had landed on its side
Ulamec explained they know roughly where the lander might be: "It could be somewhere in the rim, which could explain the bizarre orientation."
Experts said there are two possible sites that the lander could be – but they did not want to speculate on its whereabouts.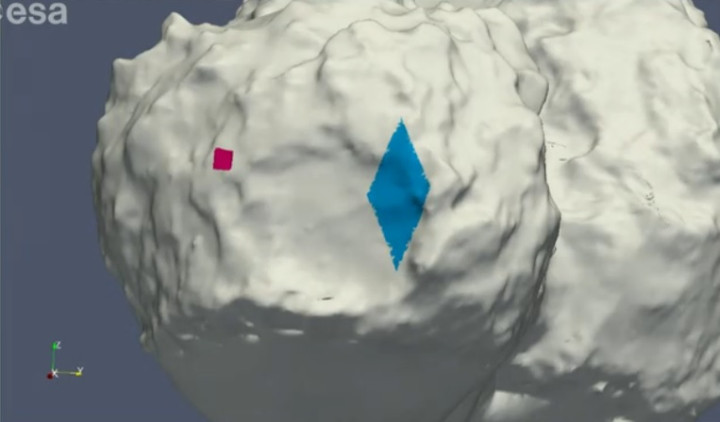 Koen Geurts, who works on the lander team, said they are now trying to modify their plans to adjust for the new position. He added that Philae is currently running on battery power: "It was not the situation we were hoping for."
Ulamec also addressed problems with the signal, saying that yesterday evening "it wasn't clear whether we would get signal from the lander again". However, the radio link was reestablished this morning with few interruptions then had a perfect signal for several hours.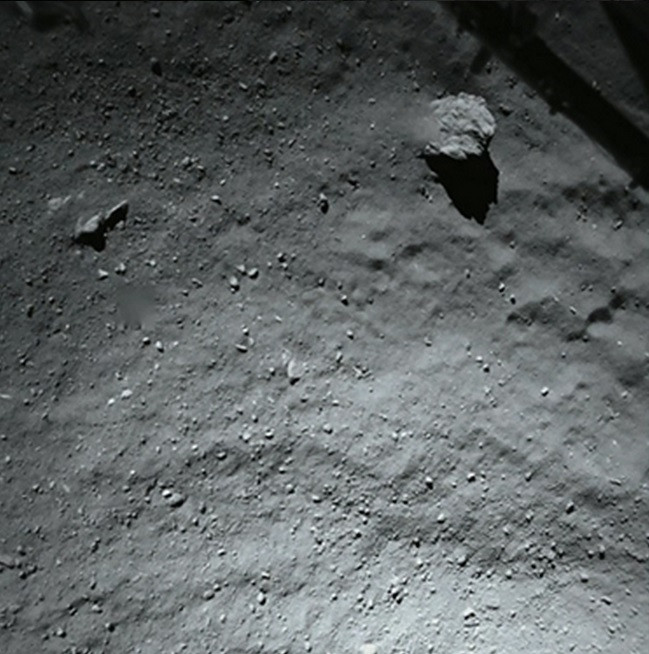 Stefano Mottola, Philae principal investigator, showed images taken just before the landing, saying he was "amazed by the quality of the images". One of the boulders is about five metres in size and they now know that the dust is mobilised on the surface: "This image has provided us with a wealth of information that will keep us busy for quite some time."