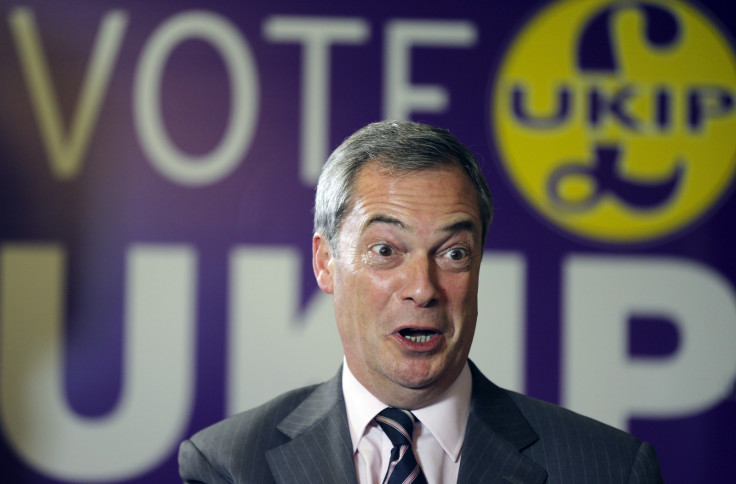 Nigel Farage has blasted "democracy suppressing" anti-Ukip protesters who forced the Eurosceptic leader to stay inside his party office in Rotherham.
Farage visited the South Yorkshire town to open the party's shop to start the general election campaign of parliamentary candidate Jane Collins.
Police were called when around 40 protesters, carrying placards reading "Reject Ukip lies", and "No to Farage's racism", blocked the entrance to the shop.
Sarah Champion, Labour MP for Rotherham, described the event as "hilarious" and that people objected to him "coming to rubber neck at victims", prompting Farage to criticise her comments.
He took to Twitter to denounce Champion's "disgraceful" remarks and claimed the demonstrators were "suppressing democracy".
The exchange comes after Ukip made big gains in Rotherham Council at the 2014 local elections.
The Eurosceptic party won 10 of the 21 seats up for election, taking seven seats from Labour, two from the Conservatives and held a seat it won in a by-election last year.
Caven Vines, Ukip's leader of the opposition on Rotherham Council, has called for immediate local elections in the town, following the resignation of the council's cabinet and the introduction of special measures by Communities Minister Eric Pickles.
"The whole council needs to be disbanded and the people of Rotherham should be given the immediate opportunity to vote for who they want to lead them moving forward in the wake of the Casey report," Vines said.
"The simple fact is that Rotherham is in desperate need of direct help and support to deal with this crisis, which deepens with each new report.
"Labour has failed the people of Rotherham in letting the abuse happen in the first place and then failed them again in the wake of the Jay report, as little direct help has been given to victims. Labour must not be allowed to fail the victims and the town again."
There is now less than 100 days to go before the general election and Ukip are polling around 15%, with Labour on 33% and the Tories on 32%, according to the latest survey from YouGov for The Sun.