Roy Hodgson has rejected claims he was subject to a player revolt during England's disastrous European Championship campaign which ended with an abject defeat to Iceland in Paris. Hodgson resigned within an hour of the Three Lions crashing out of Euro 2016, with chief executive Martin Glenn now charged with finding a successor.
Hodgson read out a statement following the 2-1 loss to minnows Iceland, and was not initially scheduled to appear at a press conference following the game. However, the former Fulham and Liverpool boss changed his mind following accusations he was intentionally swerving a media inquest.
The 68-year-old began by claiming: "I don't really know what I'm doing here," before unleashing an angry repost to continued questions over the reasons for his failure to bring success during his four-year tenure. Sky Sports reported in the wake of the exit that the squad turned on Hodgson prior to the second round loss, but the former coach has quashed such suggestions.
"If it was true they disguise it very well from myself and the coaching staff," a press conference streamed live via England's Facebook page heard from Hodgson, who was understood to caused consternation over tactics and varying selection of Liverpool pair Raheem Sterling and Adam Lallana. "We had no indication from the players that we were anything other than behind what we were doing.
"They were behind the game plans that we had and trying to execute them. In the game against Slovakia we dominated from the start to finish and all we can be accused of from the critical point of view is not taking our chances."
CEO Glenn, who accompanied Hodgson at the press conference at England's Chantilly media base, will lead a three-man team including technical director Dan Ashworth and vice-chairman David Gill to appoint a replacement for Hodgson before the team's opening World Cup qualifier on 4 September.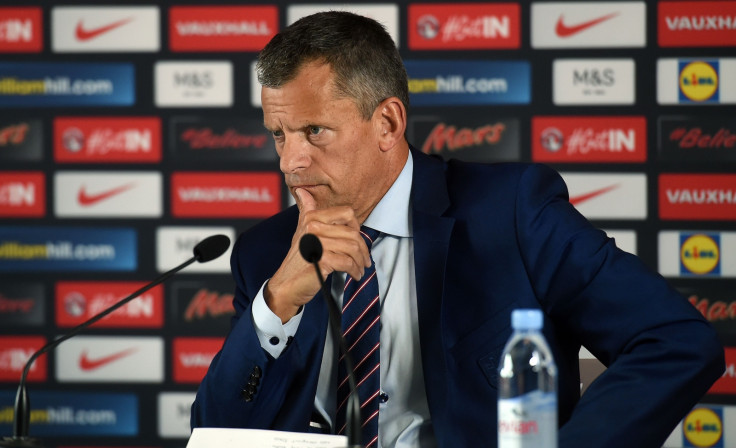 Glenn, formerly of snack foot manufacturer United Biscuits, described himself as "not a football expert" but says England's brittle record at major tournaments can be cured. He also refused to rule out appointing the third foreign manager in England's history, following Sven Goran Eriksson and Fabio Capello's spells in charge.
"The process to find a new manager is underway," explained Glenn, who refused to comment specifically on Gareth Southgate and Glenn Hoddle being linked with the job. "We're going to harness opinion from the wide part of the game. It is really important that we get this right. It is really important that we get England into a situation where we can build on the strength that we have got. There is a lot of strength in this squad.
"We are going to be canvassing opinion from current managers, former managers, clubs and players to make sure we get a lot of wisdom onto this area. We need a new manager; we don't need to throw the baby out with the bath water.
"There are lot of good things to build on. We're in a tournament business and we are brittle and we need to understand why that is. In future tournaments in every game, every half we will punch our weight and go into tournaments as contenders."