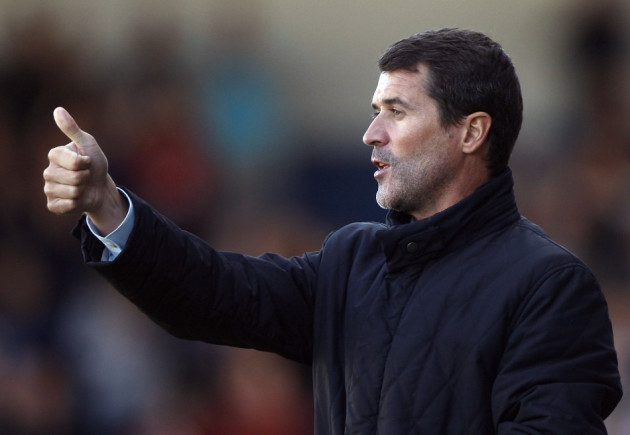 Everton midfielder James McCarthy believes former Manchester United great Roy Keane should be in the running to succeed Giovanni Trapattoni as Republic of Ireland manager.
The 74-year-old Italian coach left his post by mutual consent on Wednesday after five years at the Irish helm, following successive defeats to Sweden and Austria that ended Ireland's hopes of qualifying for the 2014 World Cup.
John Delaney, chief executive on the FAI, has indicated they may look to bring in a manager from overseas depending on the candidates available to them, but the Toffees' record signing McCarthy would welcome the opportunity to play under the nation's former captain.
"That would be great to work under him, but I'm not sure what's going to happen," the 22-year-old midfielder said when asked of the possibility of the former Sunderland and Ipswich Town boss taking the reins.
"But it would be great to work underneath him.
"A few names have been thrown around, obviously Martin O'Neil and Mick McCarthy maybe. It's up to the FAI and I'm sure whoever comes in will do a good job."
While Ireland's qualification hopes may be over, games away to Germany and at home at Kazakhstan remain this calendar year.
Delaney would like that have Trapattoni's replacement in place for those October fixtures, but insists the FAI will not rush their decision with a successful Euro 2016 campaign now a priority.
"Ideally we would like to have a manager in place for the games in October but that's not a must, because we have 12 months before we play our first qualifiers next for Euro 2016 and I think it's important we get the right man in so we have the best chance to qualify for France in 2016," Delaney told Sky Sports News.
"The players will have their views and the public will have different opinions too. It is going to be a mix of everybody's views. My board members will speak to the grassroots too.
"But ultimately the FAI board will decide in the next week or so how we go about making the selection. Last time Ray Houghton, Don Howe and Don Givens helped us make the decision. We may use a similar process this time, we may not.
"It is something that is very open and now is the time for a short period of reflection about the job description, the process and the timing."