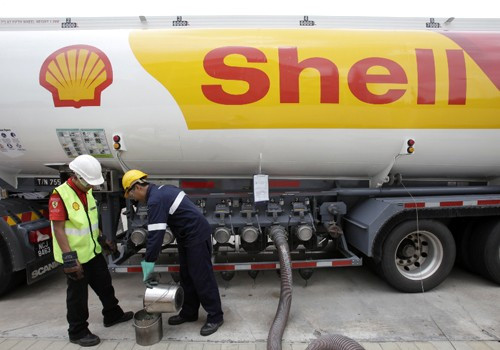 Shares in Royal Dutch Shell were down on the FTSE 100 in morning trading despite the energy giant reported a near-doubling of full year earnings.
In the fourth quarter of 2010 earnings rose 384 per cent from the previous year to $5.7 billion. In the full year earnings increased 90 per cent to $18.6 billion.
Net capital investment in the fourth quarter was reported as being $1.5 billion, while total cash dividends paid the shareholders in the period totalled two billion dollars.
The group said that it was holding fourth quarter dividends at $0.42 cents per share, a figure which is likely to remain unchanged in the first quarter of 2011.
Peter Voser, Chief Executive Officer of Royal Dutch Shell, said, "Our 2010 earnings increased substantially from 2009 levels, driven by improving industry fundamentals, and Shell's production growth and cost performance. Our 2010 oil and natural gas production volumes were 3.3 million boe/d, an increase of 5%. LNG sales volumes increased by 25%, with continued growth in Downstream. Fourth quarter and full year 2010 earnings were supported by higher oil prices and chemicals margins. However, our earnings were impacted by weak refining margins, pressure on certain regional natural gas prices, and volatility in Downstream marketing margins as a result of rising oil prices."
Richard Hunter, Head of UK Equities at Hargreaves Lansdown Stockbrokers, commented, "Stripping out adjustments, Shell profits are somewhat shy of market estimates and the shares have reacted accordingly in early trade.
"Even so, net income was well above expectations and a significant improvement on the previous year. Higher oil prices inevitably provided a tailwind, but the production story is central to the bull case. Apart from reversing a previously downward move in production, Shell's future prospects are beginning to look brighter as the benefits of a large investment programme begin to filter through. Pressures remain on certain gas prices and refining margins, whilst the Gulf of Mexico spill continues to cast a shadow on the sector and future drilling prospects.
"In all, the company has succumbed to a tinge of disappointment on the numbers and some profit taking, with the shares having risen 27% over the last year, as compared to a wider FTSE100 gain of 14%. Today's setback is likely to be short-lived, however, with the general market view being that the shares are a buy and currently preferred as a play to BP."
By 09:30 Royal Dutch Shell "A" shares were down 2.71 per cent on the FTSE 100 to 2,206.00 pence per share while "B" shares dropped 3.11 per cent to 2,181.00 pence per share.