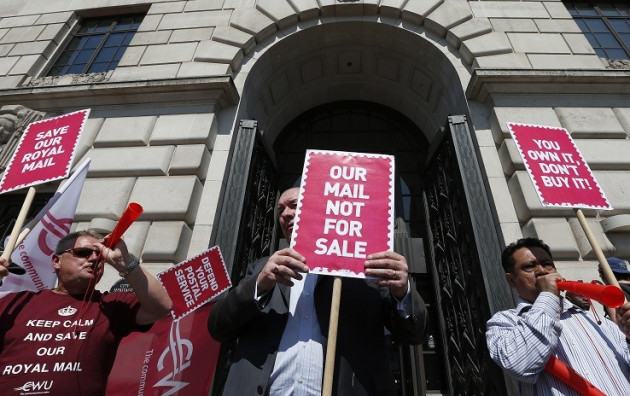 Royal Mail staff will strike over the government\'s privatisation of the firm amid concern about the fate of jobs and working conditions.
Members of the Communications Workers Union (CWU) were balloted on strike action and voted to walk out in the wake of the 500-year-old company\'s flotation on the London Stock Exchange. Of the 72,019 members balloted, a 63% turnout, 78.29% backed strike action.
Unions say Royal Mail\'s privatisation will lead to job losses, a decline in the quality of the service offered, and has been sold off at poor value for taxpayers. The government had attempted to appease Royal Mail staff by giving them shares in the company under its privatisation.
\"We have said from the beginning that we want an agreement and we still do. The question now is whether this privatised Royal Mail still wants an agreement,\" said Dave Ward, CWU deputy general secretary.
\"We have offered the company a two-week period to reach an agreement and having already had many hours of negotiation, this is achievable if there is a will. The clock is ticking for both sides and we need Royal Mail to work to reach agreement before this deadline.
\"What we want is a groundbreaking, long-term, legally binding agreement that not only protects postal workers\' job security, pay and pensions - but will also determine the strategy, principles and values of how the Royal Mail Group will operate as a private entity.
\"This means there will be no further breakup of the company, no franchising of individual offices or delivery rounds, no introduction of a cheaper workforce on two-tier terms and conditions and no part-time industry.\"
A strike will take place on 4 November if no agreement is reached between unions and Royal Mail bosses before this date.
There will be a second ballot of Royal Mail staff on whether to boycott delivery of competitors\' mail.
\"The boycott will be used to supplement strike action. Royal Mail needs to reach an agreement with us now and avoid the consequences of these two types of action from postal workers,\" said CWU\'s Ward.
Royal Mail Flotation
Royal Mail shares were available to trade, on a conditional basis, from 11 October. On 15 October, the conditions were lifted and they are now free to be traded on the London Stock Exchange.
The government sold almost all of the Royal Mail stock being floated at its offer price of 330p a share. Critics have said this was far too cheap as the price rocketed to 472.60p at 15:30 GMT on 16 October, well above the offer price.
However, Business Secretary Vince Cable defended the offer price, saying it ensured all the stock was sold and so provided good value for taxpayers. He also said that share offerings are always priced at a discount to the consensus market value.
Cable had previously estimated that there had been around 700,000 applications for Royal Mail shares ahead of the privatisation. Royal Mail staff have been handed 10% of the firm\'s share capital and the government retains a 37.8% shareholding.
Of the base offer, 67% of shares were offered to institutional investors, while 33% were offered to retail investors.
There was a £750 minimum investment set for retail buyers. The government said 93,000 members of the public who had applied for the minimum amount of shares would receive them in full. Those who applied for more than £10,000 worth would not receive any shares.
Government Cashes In
Britain\'s government is cashing in on money fronted in unsuccessful applications for Royal Mail shares as the would-be investors sit and wait for it to be refunded.
A spokesman for the Business, Innovation and Skills (BIS) department confirmed to IBTimes UK that this money was being held in a government account and accruing interest as investors wait to get it back.
However, he added that it was clear in the terms and conditions of the shares prospectus that the money would be returned by 21 October and so is not late in being repaid.
One Lincolnshire woman who applied for £10,000 of Royal Mail shares through the government\'s official website on 7 October and was allocated the minimum £750 worth is waiting for £9,250 to be returned.
\"I imagine a lot of people pushed themselves, beguiled by what look like a really great return,\" she told IBTimes UK, asking to be kept anonymous.
\"A lot of people have seriously struggled to know what to do with their money, because there\'s been no way to earn any interest.
\"If you start incurring a few overdraft charges, it\'s soon going to eat into what little profit you might make out of 227 shares.\"
She added: \"They were very quick to take the money. It was gone, just like that. God they must be sitting on a pile, surely.\"