The town of Ashbourne in Derbyshire witnessed chaotic scenes on Tuesday (9 February) with thousands of people brawling in the streets, turning the historic market town into something akin to a giant rugby scrum – and similar scenes are expected on Wednesday. Ashbourne is home to one of Britain's oldest and bloodiest sporting traditions: the Royal Shrovetide Football Match, played annually on Shrove Tuesday and Ash Wednesday. The game, also known as 'hug ball', has been played in the Derbyshire town since around 1667, though its origins are thought to date back to the 12th Century.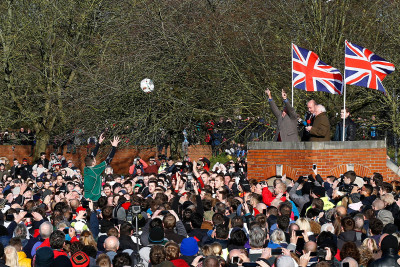 Play can last for eight hours each day, as rival teams push and shove each other in a series of brutal scrums known as 'hugs' in an attempt to get a ball into one of two goals that are positioned three miles apart at either end of the town. These teams are known as The Up'ards and Down'ards – traditionally players who were born north and south respectively of Henmore Brook, the stream that runs through Ashbourne.
The match starts at 2pm on Shrove Tuesday and can go on until 10pm. If a goal is scored before 6pm, another ball is 'turned up' and the game recommences. If a goal comes after 6pm, the game ends for that day and continues on Ash Wednesday. The Up'ards took the honours on the first day of play this year, when former Queen Elizabeth Grammar School teacher Barry Greenwood 'goaled' the ball by banging it three times on a post at Sturston just after 5pm.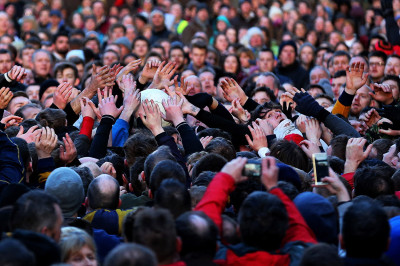 The sport is known as 'no rules' football, but there are actually a few rules: no murder or manslaughter or 'unnecessary violence', no hiding the ball in a handbag or coat or transporting it in a car, and no trampling over graveyards. Apart from that, it's very much a free-for-all.