Throughout most of Britain, if Twelfth Night is observed at all, it is seen merely as the date on which to take the Christmas tree down. However, in pockets of rural England, it is a major celebration, with customs dating back hundreds of years. In this gallery, IBTimes UK looks at two little-known festivals.
Getty Images photographer Christopher Furlong travelled to the village of Haxey in North Lincolnshire for the annual game of Haxey Hood. This is a bit like a huge game of rugby, in which villagers try to get a leather tube called a hood into one of four pubs in Haxey or the nearby village of Westwoodside. Hundreds of people take part in the game, which can go on for hours.
The custom is thought to date back to the 14th century when Lady de Mowbray's silk riding hood was blown away by the wind and farm workers chased it until it was caught by one of the men. However, being too shy to hand it back to the lady, he gave it to one of the others to hand back to her. She thanked the man who had returned the hood and said that he had acted like a Lord, whereas the man who had actually caught the hood was a Fool. The act of chivalry and the chase amused her so much she donated 13 acres of land on condition that the chase would be re-enacted each year.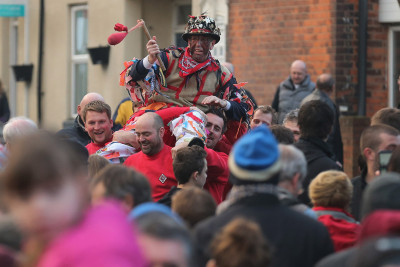 Matt Cardy, another Getty Images photographer, visited the Leominster Morris Wassail in Herefordshire. The annual tradition sees morris dancers and mummers leading villagers from the Boot Inn in Orleton near Leominster to the local apple orchard to take part in their Twelfth Night wassailing ceremony. This involves placing a cider-soaked piece of Christmas cake on the branches of an apple tree and sprinkling cider around its roots, before lighting torches, dancing and singing to ensure a good crop of cider apples for the year ahead.
They then return to the pub to perform a traditional mummers play, a traditional English folk drama, based on the legend of St George and said to date back more than a thousand years. The tradition of wassailing, which differs from place to place in cider producing counties, has its roots in ancient pagan traditions and is held after Christmas as a plea to the spirits of the orchard to provide a good crop. It is seeing something of a modern revival as cider makers across the West Country reintroduce the ritual of toasting their apple trees for good luck.