Russian international TV network RT has been banned from posting content on its Facebook page for three days, from Thursday 19 January to Saturday 21 January. This means it will be unable to share any videos or images relating to US President-elect Donald Trump's inauguration ceremony on Friday 20 January.
RT reported that it had been blocked from posting content to its Facebook page at 1:16am GMT on 19 January. The TV network is still permitted to post text statuses, but is not allowed to post photos, videos or shared content until 10.55pm Moscow (7.55pm GMT) on Saturday 21 January.
RT says the ban was triggered by Facebook receiving a copyright infringement violation claim from RT's live broadcast of President Obama's farewell press conference on the social media platform on Wednesday 18 January at 10.25pm Moscow (7.25pm GMT).
The infringement complaint was apparently made by Current Time TV, an international TV channel for Russian-speaking audiences that is part of Radio Liberty. Radio Liberty (also known as Radio Free Europe), is a private non-profit news organisation aimed at providing uncensored news around the world, that is funded by the US Congress.
"RT's page has been blocked for no fair reason. We received a notification while streaming live Obama's last press conference. The notification stated that RT's feed 'might contain audio or visual content that belongs to Настоящее время'," RT's social media team wrote in a report to Facebook's management team.
"RT was receiving that live feed from AP Direct, we have all necessary rights to livestream that feed as RT is AP's client. Please lift all the limits ASAP."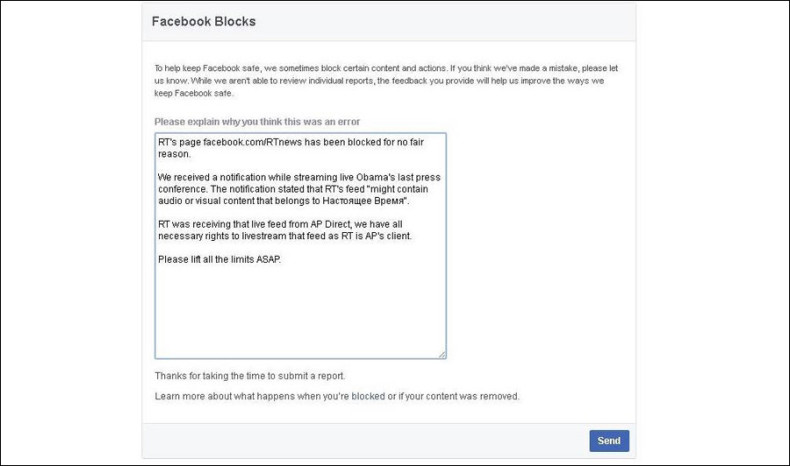 As can be expected, RT's editor-in-chief Margarita Simonyan was unimpressed by the Facebook block and the origins of the copyright complaint. "I'm not surprised. If the Department of State could block oxygen to us, they would do it", Simonyan told Russian state news agency RIA Novosti.
Facebook told IBTimes UK that the block is due to a copyright infringement violation relating to live broadcasts and that it is standard practice to block pages if they are found to violate copyright. Facebook is currently in talks with RT to resolve the issue.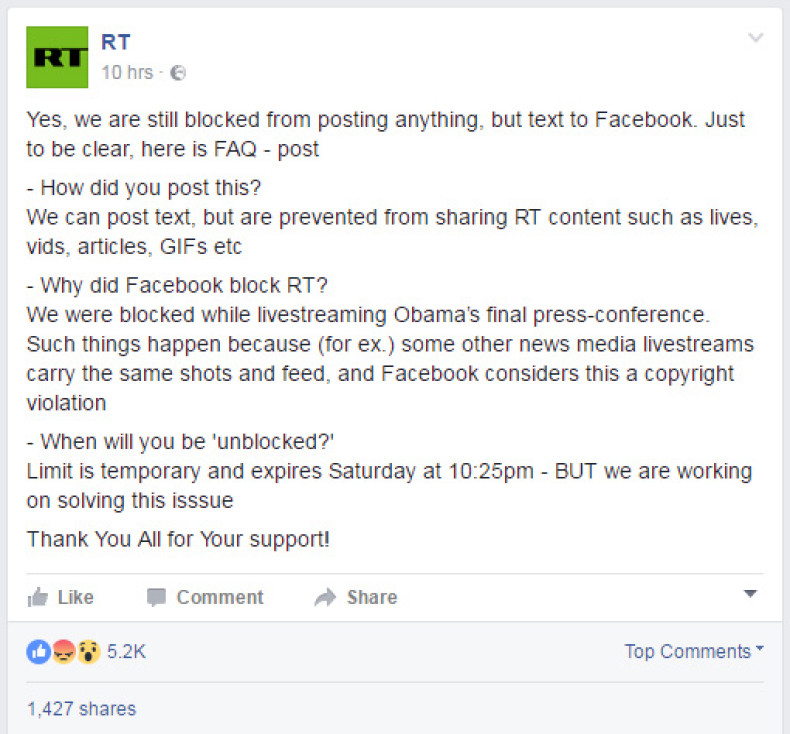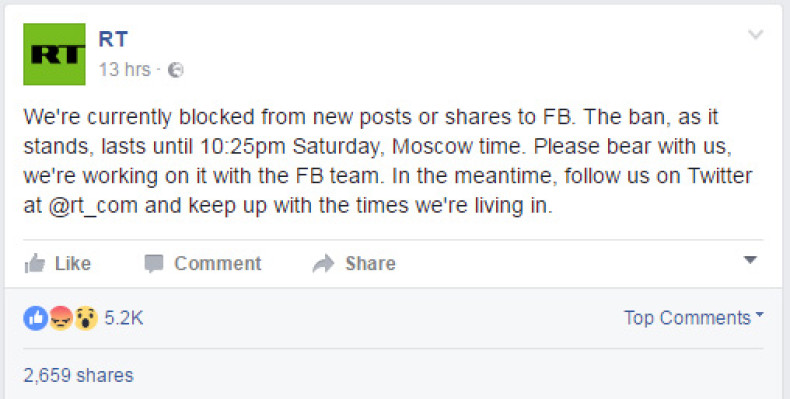 "The live-rights strike seems to be part of an algorithmic failure to acknowledge rights acquired by broadcasters, and we hope it will be resolved in the short term. While Facebook is a powerful distributor of live-streams it is struggling with the rights ramifications. RT will continue text-only posts to Facebook until the issue is resolved," said RT's head of social media Ivor Crotty.
RT's readers are furious about the Facebook ban – so far there are 691 comments on the story and 19 people are currently typing more comments, at the time of reporting. Most of the comments are derogatory towards Facebook and the US.