Over the past 24 hours, if you believe social media, WikiLeaks founder Julian Assange has died, been renditioned to a black-site by the Central Intelligence Agency (CIA) and come back to life. All the while, covert forces in the US and UK are said to be working closely to silence all critics.
In a plot ripped straight from the darkest corners of the web, conspiracy theories are swirling linking the Podesta email leaks, a 'state-actor' that cut off Assange's internet connection, the ongoing political hacks in the US and the alleged banking block enforced on news website RT.
On 17 October, two incidents occurred which have led to rampant speculation online. First, WikiLeaks' Julian Assange claimed via Twitter that the internet connection in the Ecuadorian embassy had been mysteriously disrupted. Second, RT, the Russia state-owned media channel, announced its UK banking services had been rescinded.
The day previous, WikiLeaks published three 'pre-commitment' tweets with titles including John Kerry, Ecuador and UK FCO which sent the internet into meltdown. These posts, which came in the form of long-digit hashes, could potentially be used to unlock fresh secrets, the internet claimed.
Almost immediately, Reddit was awash with conspiracy – from "Assange needs to make a video and prove he wasn't captured" to "14 WikiLeaks operatives have no internet/phone. Coordinated attack?" One commenter noted: "I am hearing that Ecuador has caved to Clinton & Co. and will either be extradited or dead in 12 hours."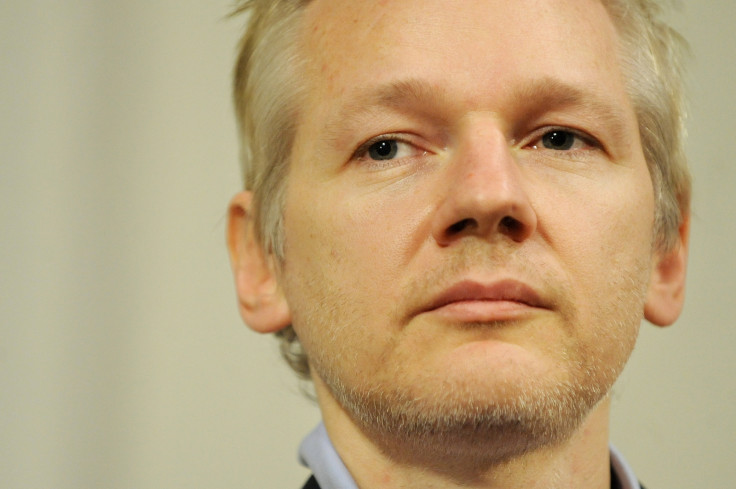 But how on earth did we get here? So far, there are a number of key events. It started with the hack at the Democratic National Committee (DNC) back in July – that multiple cybersecurity firms have claimed was the work of two hacking groups affiliated with Russian intelligence.
After a mysterious figure known as Guccifer 2.0 – also believed to be the work of Kremlin-linked actors – emerged and started to leak internal DNC documents, WikiLeaks quickly became embroiled in the story by releasing roughly 20,000 emails from the US Democratic Party.
US officials, including some in the highly-secretive intelligence community, have said they believe the ongoing cyberattacks are an attempt to influence the upcoming 8 November presidential election, which will see two of the most unpopular candidates ever face-off for the White House.
Eventually, as WikiLeaks started to release a fresh slew of emails allegedly from the personal email inbox of close Hillary Clinton aide John Podesta, the US security services finally blamed "Russia's senior-most officials" of authorising the DNC hack. It also namechecked WikiLeaks as another arm of Russian propaganda efforts.
Most recently, as the leaks continued to mount, with thousands of Podesta's emails now in the wild, the US government promised a swift "covert" response at the hands of the CIA. "If someone has decided, 'we've had enough of the Russians,' there is a lot we can do," one source told NBC News.
Was the internet disruption and banking blockade a part of the unprecedented "covert" action promised by the US? After all, as noted by NBC News, one intelligence source did claim going after "Russian bank accounts" was indeed a viable response.
Additionally, the Financial Times quoted a former US intelligence operative who said closing RT's UK bank account and severing Assange's internet would "certainly be consistent with something that western governments at large would be interested in doing". He added that scuppering RT "certainly sends a strong message to the Russians."
Kelly Kolisnik, a web developer and WikiLeaks volunteer tweeted: "News organization RT (originally Russia Today) just had their bank accounts blocked in the UK - is this the Cyber War on Russia?" Ian Bremmer, political scientist and professor at New York University, tweeted: "WikiLeaks' Assange has internet cut, allegedly by 'state actor.' RT & bank accounts blocked in UK. Feels like beginning of cyber response."
Yet there is little evidence to prove these assertions. Indeed, WikiLeaks has since claimed the true source of the internet outage was political pressure applied on Ecuador from US Secretary of State John Kerry. "Multiple US sources tell us John Kerry asked Ecuador to stop Assange from publishing Clinton docs," the group tweeted on 18 October. This remains unconfirmed.
The Ecuadorian embassy is yet to make any statement regarding Assange's internet access. However, the country's foreign minister Guillaume Long has said that Assange still remains under his country's protection. "Ecuador will continue to protect Julian Assange," noted one tweet.
Now, as RT promises retaliation against BBC operations in Moscow, as WikiLeaks continues to publish Podesta emails by the thousands and as Guccifer 2.0 returns to the scene with a promise to release more documents, the chaos – and the speculation – is unlikely to abate any time soon.