Rudy Giuliani claims Hillary Clinton was not in NYC after 9/11 despite photos proving otherwise
The former NYC mayor said he does not 'remember' seeing Clinton following the terrorist attacks.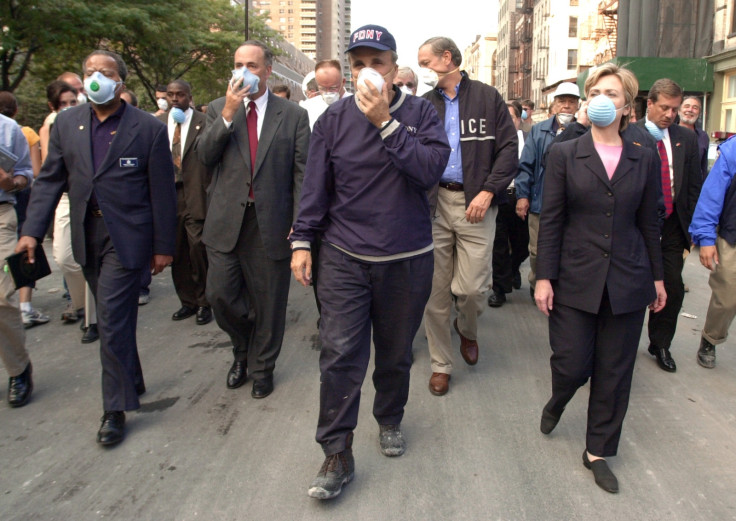 Former New York City Mayor Rudy Giuliani criticised Democratic nominee Hillary Clinton for discussing her role in the aftermath of 9/11 during a campaign rally for Republican Donald Trump in Ocala, Florida. Giuliani, who was mayor at the time of the attacks, even claimed Clinton was not around in the aftermath of the attacks despite photos proving otherwise.
"I was there that day, I don't remember seeing Hillary Clinton there," Giuliani said. "I lost so many friends on September 11, I think about it every day. Don't tell me you belong to our very tight group of 'never forget.' Don't tell me that."
Giuliani acknowledged that Clinton, who was a US senator for New York at the time, helped get benefits for the victims of the attacks but said she lied about being present at Ground Zero. Clinton told CNN last month that she was in Washington DC on the day of the attacks but was able to travel to New York City with fellow Senator Chuck Schumer the next day on one of the few planes allowed to fly.
Photos show the two politicians walking alongside then-New York Governor George Pataki to the site of the attacks. "There weren't that many survivors; the ones that did survive were grievously injured," Clinton told CNN's Chris Cuomo. "But it was also my job and the job of the other officials to get our city and state and country what we needed."
Clinton would go on to work with Schumer to lobby President George W Bush for funds to help the city rebuild. "I would meet these shattered lives of people where they were broken, but I saw so many of them strengthen and show such resilience. So I felt privileged," she said. "It gave me insight into the human spirit—and I like to think the spirit of New York and America—that I wish every American could understand."
The Democratic nominee shot back at the allegations she was not present at Ground Zero with a dig at Trump. "In 2001, Hillary worked to support and rebuild New York after 9/11. Trump pocketed emergency funds for himself," she tweeted.
© Copyright IBTimes 2023. All rights reserved.