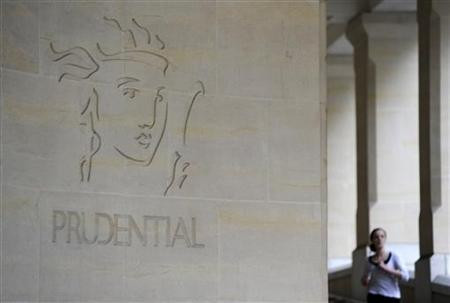 'Rule Britannia' is the message that one brokerage, Nomura is giving these days, after Prudential's failed bid for AIA, highlights the need for 'British' businesses to target a 'British market'.
The investment group's research published recently, says that insurance firms like L&G (Legal & General) and Aviva are better positions than Prudential's to the UK's life and pensions market.
According to the Japanese firm - "conventional wisdom sees Asia as offering more growth than the UK" but not in the immediate future.
Furthermore, he says, the RDR (Retail Distribution Review) organised by the FSA and set to be completed by the new regulatory committee under the Bank of England will help the life and pensions industry sell more.
"Although we agree with this in the longer term, we think the market underestimates the UK's medium-term prospects," concluded their analyst Nick Holmes.
Prudential's share price was down 1p today, or 0.18 pct to 569p. Aviva's and L&G were up 1.19 pct or 0.36 pct respectively.
Nomura, who have a 'Neutral' price rating on the company prefer L&G and Aviva for the reasons that are outlined below:
"Reason 1: We see more medium-term risks to Prudential's IFRS earnings growth than with L&G and Aviva, in particular owing to its optimistic US DAC assumptions: we highlight that Prudential's US DAC equity growth assumption in its variable annuity book is at a high level of 15% for the next five years (Aegon uses 8% and AXA 9%). If markets fail to achieve this level of growth, there could be a material drag on earnings (worth we estimate 17% of earnings to correct). L&G and Aviva do not write variable annuities and are not exposed to this risk.
"Reason 2: We expect a slowdown in Prudential's sales following its very strong growth in H2 2009 (especially in the US), which may reduce Prudential's growth appeal: we expect a slowdown in sales this year as the strong growth in 2009, especially in the US, slows in 2010; we note that Q1 2010 sales fell compared with Q4 2009, although they were sharply up y-o-y. Prudential's 5-month release to the end of May seems to confirm this trend.
"Reason 3: Prudential's valuation is demanding compared with L&G and Aviva: Although we continue to regard its Asian franchise as highly attractive, we feel that the market recognises this, with the stock trading on an IFRS P/E ratio of 13x compared with the European sector on 9x and Aviva and L&G on 5.4x and 7x, respectively."