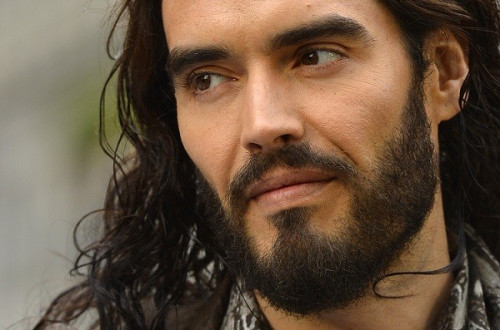 Russell Brand is continuing his crusade against the UK's "extremely stupid drug laws" by launching an e-petition with global campaigning organisation Avaaz.
Unlike other e-petitions on the Avaaz website, Brand's page features an e-petition from the HM Government website embedded into the page.
Under the heading "Drug Laws Kills", Brand writes that drug addiction costs the UK £3bn a year. He praises Brighton's Green MP Caroline Lucas as being "anomalously trustworthy" for starting a campaign to review the UK's drug policies, particularly the Misuse of Drugs Act 1971.
"Right now, Nick Clegg says he wants reform (at the moment - so act quick before he changes his mind)," writes Brand.
"Almost 2,000 young people die in the UK each year from taking illegal drugs. But leading police, doctors, and politicians agree prohibition has completely failed to curb addiction."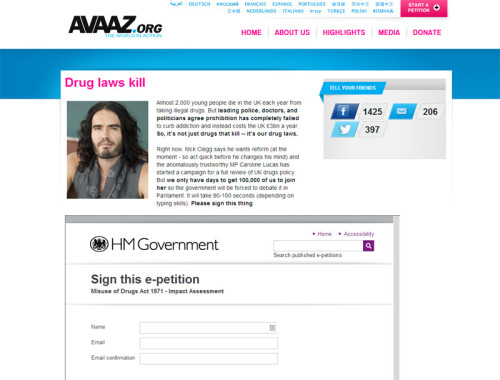 Brand recently wrote in the Guardian about his own experiences as a recovering drug addict and chastised the media for its treatment of stars who are known to have taken drugs, such as Justin Bieber and Miley Cyrus.
"Philip Seymour Hoffman's death is a reminder that addiction is indiscriminate. That it is sad, irrational and hard to understand. What it also clearly demonstrates is that we are a culture that does not know how to treat its addicts," he writes.
"Would Hoffman have died if this disease were not so enmeshed in stigma? If we weren't invited to believe that people who suffer from addiction deserve to suffer?"
Brand needs 100,000 people to sign the e-petition on the HM Government website.
Avaaz users who have signed up to receive email alerts from the organisation about new petitions will have received an email with the subject line, "For f***'s sake sign this".
The petition (which you can view here) has been shared on Facebook 1,424 times and shared over Twitter 397 times.