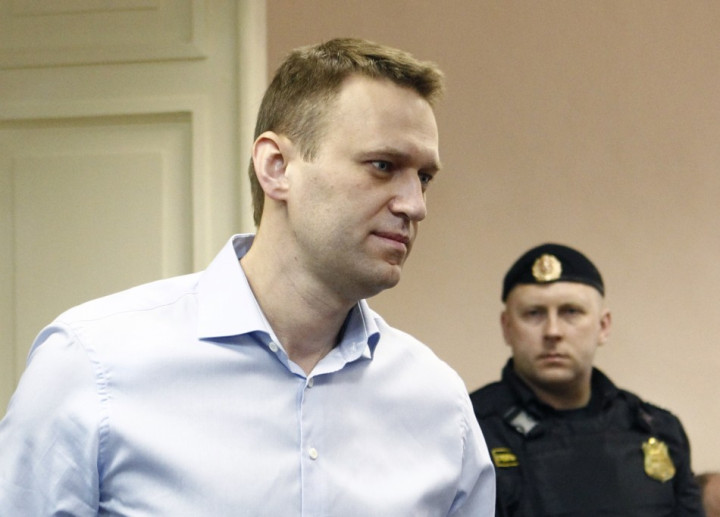 A Russian court has refused to further delay the trial of prominent opposition leader Alexei Navalny, who faces up to 10 years in prison and a ban from public office over embezzlement charges.
Navalny, an anti-corruption blogger who led protests against President Vladimir Putin, is accused of participating in the embezzlement of 16 million roubles (£300,000) worth of timber from a state-owned company, while working as an adviser for the governor of the Kirov region in central Russia four years ago.
Defence lawyers asked a Kirov court to recuse itself as not impartial, as Navalny, 36, maintains he is the victim of political prosecution and that charges against him are "fabricated".
"The goal of this trial is political persecution and bringing a halt to the investigations we're conducting," Navalny told the court.
"I'm confident that my innocence will be proven in this trial, and that my innocence will be obvious to everyone no matter what the verdict will be."
However Judge Sergei Blinov ruled against his own replacement.
Defence attorney Sergei Kobelev also asked to return the case to investigators because of procedural violations and to postpone the trial to a later date to give lawyers more time to read the case material.
"The accused was given four days to familiarise with a criminal case that comprises 31 volumes - that is, almost 7,500 pages," Kobelev told the court.
The demands were all dismissed and so was the defence claim that the indictment against Navalny and his alleged accomplice Pyotr Ofitserov - also on trial - lists conflicting figures relating to the amount of damage caused.
"It's raw, it's tendentious, there are different numbers cited everywhere, different amounts of timber are mentioned, and so on," Navalny told reporters commenting on the indictment.
The trial began a week ago but was adjourned after the defence requested more time to read the case files.
Navalny, who sympathises with nationalistic movements, has declared his intent to run for president but his hopes might be frustrated by a guilty verdict.
"If you think I will get scared and keep silent, you're mistaken," Navalny told the court, saying there are another four criminal cases pending against him.
Meanwhile Amnesty International and Human Rights Watch have released two reports that condemn the Kremlin's crackdown on freedom of expression, assembly and association, saying the curb is "unprecedented" in the country's post-Soviet history.
Tatyana Lokshina of Human Rights Watch said the prosecution of Navalny is part of that trend.
"We cannot approach the Navalny trial as a regular economic trial - the political context here is obvious," Lokshina said.
The trial continues.