Unexpected candidates can often put the cat among the pigeons in an election, but one possible contender in the mayoral race of a far-flung Russian city is taking that to an extreme. An online group in the west Siberian city of Barnaul, which is plagued by rampant corruption, asked people to rate the six registered mayoral candidates, plus Barsik the cat.
To the surprise of Altai Online, administrators who came up with the idea, Barsik got 91.2% of all votes cast.
The mayor of the city, which is 2,200 miles east of Moscow, will be picked on December 22 by a special commission.
The administrator of the online group goes by the pseudonym 'Altai farmer' and he told the IBTimes UK that the success of the cat was because people in the city knew nothing about the other candidates.
"We don't know their programmes, motives or what they want to do with the city. Barsik is planning to outline his position on the pressing political issues of our region. Besides, he can become part of the Barnaul brand.
"It could also boost the city's tourism industry. Like it or not, Barsik is part of the political establishment of the region and he will not give up on his political ambitions," he said.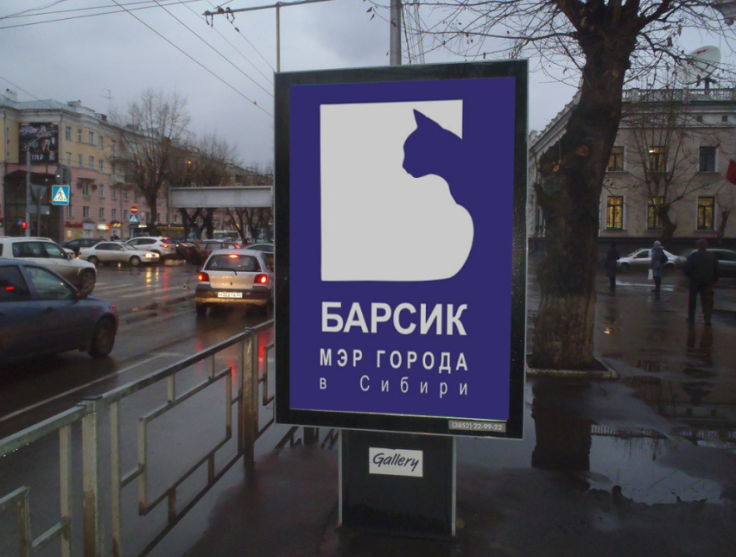 For the past five years, the people of Barnaul have not elected a mayor themselves, rather they have been appointed from central government.
For most of that time, Barnaul's city manager was Igor Savintsev, who resigned in August after investigators accused him of selling off land at cut-down prices to businesses associated with his family, Global Voices reported.
Meanwhile his son, Maxim, was put on an international wanted list last year when he fled the country after being charged with fraud and embezzlement. After evading police for six months, he was apprehended in Thailand and is in a Russian prison awaiting trial.

Barsik the cat, meanwhile, is causing a stir among Russia's media. The online newspaper Gazeta.ru reported how regional officials among the country's opposition parties approved of the cat, with one politician saying the feline's candidacy is an effective protest of how regional politics is run.
However, Barsik's candidacy does not seem to be connected with Russia's opposition movement as 'Altai Farmer' has avoided directly criticising politicians, Global Voices reported.
There is a kind of surreal acceptance about the cat's candidacy, with the governor of the Altai region, Alexander Karlin, saying: "Through the nice image of Barsik, our people are expressing what they want for the future head of the city. Here, this kind animal is associated with well-being and warmth."