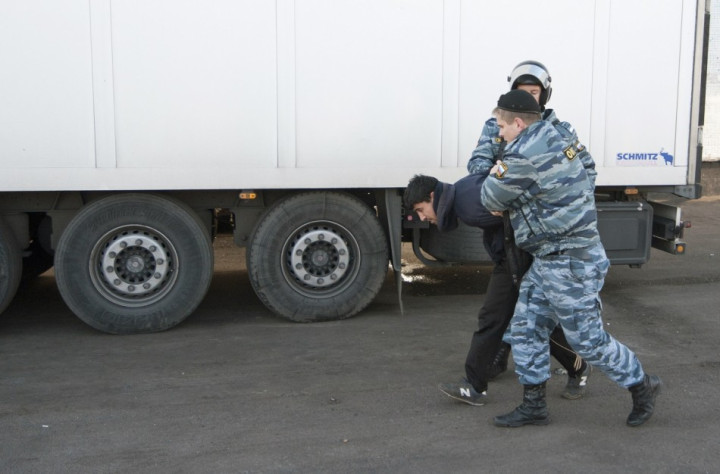 Russian police have arrested an Azerbaijani man accused of the murder that sparked anti-migrant riots in Moscow.
Orkhan Zeinalov, 30, was captured by police special forces in the city of Kolomna, 120 kilometres southwest of the Russian capital.
Zeinalov allegedly stabbed to death Yegor Shcherbakov, 25, an ethnic Russian, who was walking home with his girlfriend, Ksenia Popova, in Moscow's suburb of Biryulyovo.
The stabbing reportedly followed an altercation sparked by Zeinalov, who insulted Popova.
After the killing, police released security camera footage showing Zeinalov, to facilitate his arrest.
Zeinalov's non-Slavic traits promoted ultra-nationalists to stage a protest against migrants, which soon turned violent.
Hundreds of right-wingers stormed a vegetable warehouse in Biryulyovo, which employed mostly Muslim migrant workers from the Caucasus and Central Asia. The attackers claimed Zeinalov also worked there.
Russian media reported Zeinalov arrived in Moscow from Azerbaijan in 2003 and worked as a cab driver and occasionally helped his uncle at the vegetable warehouse.
Rioters wearing black clothing and some chanting neo-Nazi slogans smashed widows and overturned cars parked outside the building. A total of 23 people, including six riot police officers, were injured.
Writing on Social media, Popova said she didn't support the violence, nor did her late boyfriend's family.
Police initially arrested 380 protesters but most were released within 24hours.
Officials said 308 were released without charge, dozens face an administrative sanction and only two are to remain in detention on unspecified criminal charges.
Ria Novosti news agency reported 23 people have been ordered to pay fines ranging from 500 rubles (£9.7) to 3,000 rubles (£60).
As the protest was quelled, Russia's Interior Minister Vladimir Kolkoltsev ordered a crackdown on illegal immigration.
Some 1,200 warehouse workers were subsequently arrested and the premises searched.
The arrests were criticised by rights organisations.
"Authorities are going after the victims, which seems completely absurd," Tanya Cooper, Russia researcher with Human Rights Watch (HRW), told IBTimes UK. "This will only increase anti-migrant sentiment and will not stop expressions of anger against foreigners."
"The Russian police's indiscriminate detention of more than a thousand migrants in the search for one alleged killer was deeply discriminatory and obviously unlawful," added Denis Krivosheev, Amnesty International's Russia researcher.
"It was clearly done for show and not for any justifiable legal reason. Police responses like this merely play to existing xenophobic attitudes and inflame them."
Biryulyovo district police chief Gennady Kaverin has been sacked without an explanation being given to media.
Zeinalov has been flown back to Moscow by helicopter, police said.