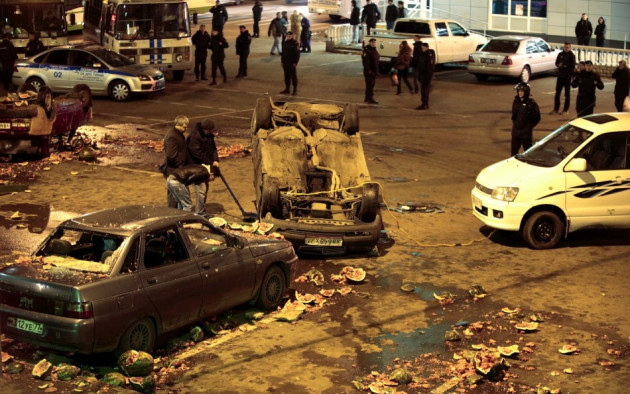 Russian police have arrested 1200 people - mostly migrants - at a Moscow vegetable warehouse that was the target of anti-Muslim riots sparked by the murder of an ethnic Russian man.
Hundreds of ultra-nationalists, shouting neo-Nazi slogans, attacked the warehouse which employs a large number of Muslim migrants from the northern Caucasus region, claiming the alleged killer also worked there.
Police first quelled the protest, arresting nearly 400 rioters, however most were released within 24 hours.
Authorities then rounded up workers and searched the building, after Russia's Interior Minister Vladimir Kolkoltsev ordered a crackdown on illegal immigration.
"I am asking the head of the Moscow police and I'm asking all managers who are on duty, to deal quickly with these warehouses, bring order, make everyone work according to Russian law, regardless of the region they come from," Kolkoltsev told a crisis meeting, The Times reported.
"During a preventative raid on a vegetable warehouse in the Biryulyovo district about 1,200 people were taken to police precincts to be checked for involvement in criminal activity," a police spokesperson said.
A car full of cash and unlicensed arms was found at the premises, authorities said.
The crackdown came after the killing of Yegor Shcherbakov, 25, an ethnic Russian who was murdered the Biryulyovo district, southern Moscow, last week.
Shcherbakov was returning home with his girlfriend when he was stabbed to death by an unknown attacker, reportedly after a dispute over the girl.
Police released security camera footage showing a suspect who was described by Russian media as of "non-Slavic appearance".
The description promoted ultra-nationalists to stage a protest against migrants, which soon turned violent.
Protesters overran the warehouse. A total of 23 people, including six riot-police officers were injured and 380 arrested during the clashes.
Police said 308 attackers are to be released without charge, some face an administrative sanction and only two are to remain in detention on unspecified criminal charges, Ria Novosti news agency reported.