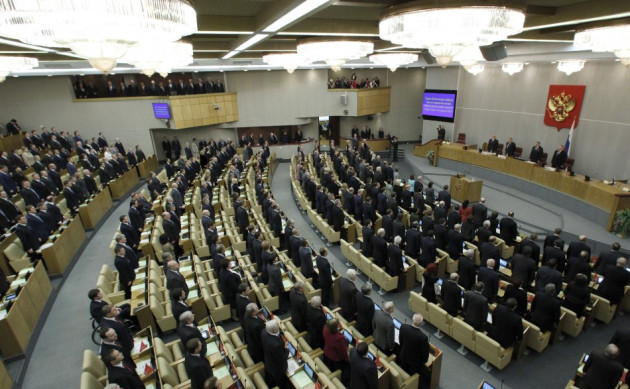 The head of Russia's State Duma affairs committee has retracted announcements on the creation of a counter-revolutionary watchdog or "anti-colour revolution council", calling it a complete nonsense.
Leonid Slutsky denied reports that a council to study threats to Russia was being set up by the committee to monitor mass rallies. But he admitted a council was being created that would be "an expert advisory board for the committee, not a council on the dangers and challenges in fighting the 'orange' threat".
The colour revolutions refer to the insurgencies that took place in several former Soviet states at the turn of the century.
The Russian daily Kommersant newspaper cited an unnamed source inside the committee as saying that the council's role would be to investigate the role of foreign non-government organisations in fuelling local revolutions, the role of new technologies and social media in the organisation of protests and the influence of the blogsphere on the masses.
The possibility of a counter-revolutionary council was initially confirmed by the state news agency, Ria Novosti, on its website, which quoted Slutsky's deputy, Tatyana Moskalkova, as saying that the council would study the use of information technology in revolutionary movements in Russia.
"It is impossible to build a security belt for the whole former Soviet Union region with [only] one country," Moskalkova said.
She later withdrew her statements, saying there was no plan to create an "anti-colour revolution council".
"Initiatives about the creation of a council have never been stated and this issue [anti-colour revolutions] is not lawmakers' responsibility," Moskalkova said.
Konstantin Zatulin, a former member of the Duma CIS Affairs Committee, claimed that the idea of fighting revolutions was obsolete within the Duma since the break up of the Soviet Union.
Following disputed elections in Georgia, the Kmara civic resistance movement led the Rose Revolution, which toppled former president Eduard Shevardnadze and replaced him with Mikhail Saakashvili.
The Orange Revolution in Ukraine received major media coverage after the second round of the presidential election in 2004 was annulled. Viktor Yushchenko won the second round and became president, defeating Viktor Yanukovych.
The violent uprising in Kyrgyzstan, dubbed the Tulip Revolution, was supported by youth resistance movement KelKel and led to the overthrow of president Askar Akayev after parliamentary elections in 2005.