Russia says deployment of US troops to Europe poses threat to its national security
Operation Atlantic Resolve is aimed at showing Russia that Washington is committed to its allies in Eastern Europe.
Russia on Thursday (12 January) hit back at the biggest deployment of US troops in Europe in decades and said that the tanks and troops along its border pose a threat to its national security.
Kremlin's spokesperson Dmitry Peskov said, "We consider this a threat to us. These actions threaten our interests, our security. Especially as it concerns a third party building up its military presence near our borders. It's [the US], not even a European state."
On Thursday, Poland welcomed thousands of US troops along with armoured vehicles and tanks as part of Operation Atlantic Resolve, which is aimed at showing Moscow that Washington is committed to protecting its Eastern European allies.
US Army Colonel Christopher R Norrie, commander 3rd Armoured Brigade Combat Team, at a welcome ceremony in Poland, said "The main goal of our mission is deterrence and prevention of threats."
"Their arrival is just one small but meaningful example of how we are quickly building combat power here," he added.
According to reports, Poland and other Baltic states asked for US and Nato troops after Russia annexed Crimea in 2014 fearing that Moscow could make a further land grab in Eastern Europe.
Polish Defence Minister Antoni Macierewicz said that the Nato deployment puts an end to Russia's influence in the region. "Russia's veto power in Central Europe, in Poland, has ended once and for all," he said.
"Even after 1989 we had to continuously wonder whether the Russians won't veto this or that action," Macierewicz added who has been urging for better contracts with the US military. Poland specifically has also been asking for permanent deployment of US troops since communism fell in 1989.
The deployment includes at least 80 main battle tanks and several armoured vehicles. Besides Poland, tanks and other vehicles will be stationed at Latvia, Lithuania, Romania, Bulgaria and Hungary. The troops will rotate every nine months.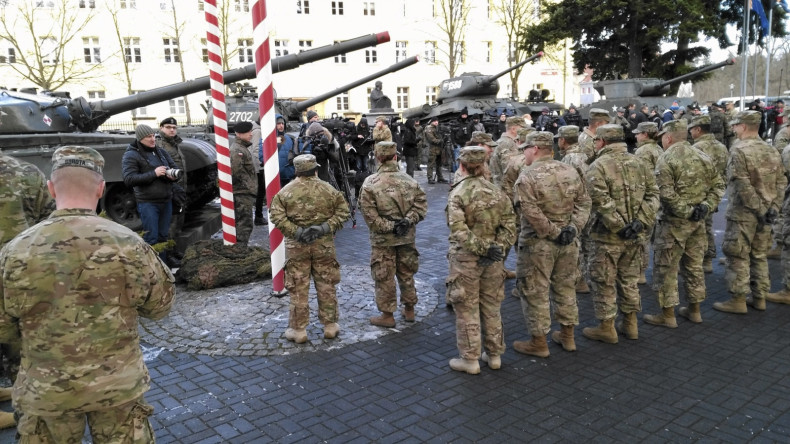 The move by the US comes just days before the inauguration of Donald Trump as America's next president. Trump had suggested he wants to improve ties with Russia.
However, Nato officials played down Trump's previous remarks and said they expected he would not reverse the move after he is sworn in.
Trump's nominee for Secretary of Defense, General James Mattis backed Nato at his Senate confirmation hearing. He added that the West should realise that Putin is trying to break Nato.