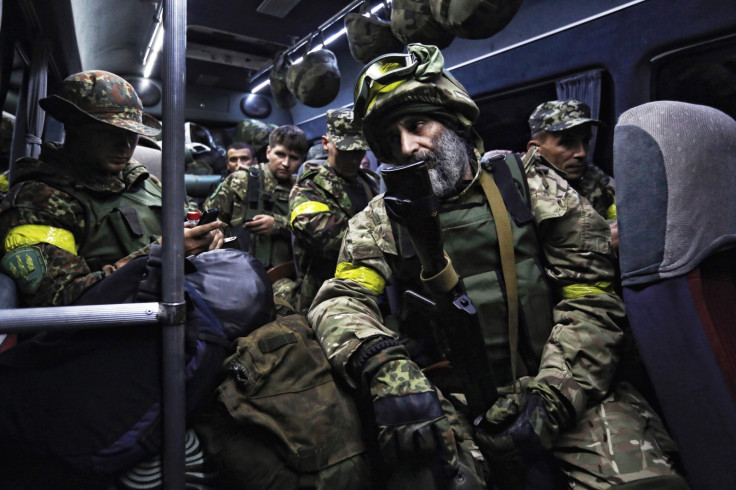 Over 75 years ago, over the course of just two days in Kiev, one of the worst massacres of the Second World War unfolded. On 26 September, 1941, the occupying Nazi forces ordered the extermination of all Jews in the city. They posted notices ordering all Jews to report at 8am with their documents and valuables. Any found elsewhere in the city at that time would be shot on sight.
The Jewish civilians arrived that day believing that were being resettled. Instead, Nazi troops shot and killed 33,771 of them in the Babi Yar ravine the next day.
Historians say that many Ukrainians risked their lives to save their Jewish neighbours but many also acted as collaborators in the massacre. That's why the Ukrainian government's establishment of a Babi Yar memorial near Kiev is so important. It is seen as proof of Ukraine's commitment to remembering the tragedy and its Jewish people.
The anniversary comes at an interesting time for Ukraine. The country is almost three years into its war with Russian-backed separatists. But Ukraine is not just fighting a physical war on the ground, it is fighting a symbolic and ideological war against the Russian media as well. And one of their key propaganda messages, that Ukraine is a country full of Nazis and fascists, has found great success.
The messaging subsided when the Russian's refocused their military efforts into Syria. Yet, the lasting stigma of that propaganda remains. That's why the case of a Crimean born Jew fighting for Ukraine is so curious.
Asher Cherkassy, 46, a devout Orthodox Jew, once served as a soldier of the Soviet Union. After his service, he found himself in the city of Dnipro, where he earned a living in the construction industry. After Ukraine's Orange Revolution in 2004, he moved back to his hometown of Feodosia, Crimea.
Ukrainians despise anti-Semites.
He was in Crimea when the Russians annexed the peninsula in early 2014. When his mother realized what was happening, she forced him to flee to the mainland with his kids. "She was from around Grozny, and believed that the same massacres that took place there would happen here" says an exasperated Cherkassy. "And she was right."
After this episode and despite his age, he felt it was his duty as a trained soldier to go to war for Ukraine. But how could a Jew serve for a Ukrainian military that the Russians insisted was full of fascists and Nazis? Cherkassy laughs.
"There is no fascism or Nazism, yes there is nationalism in Ukraine, but what is nationalism? It is when people are proud about themselves. Jews are also nationalists. I wear national dress. For us it is about beautiful expensive hats and suits. There are many Jewish people who wear vyshyvankas (the embroidered shirt in Ukrainian national costume), we enjoy it. We enjoy speaking Ukrainian. On the everyday level I don't feel anti-Semitism," he said.
Asher says he didn't think twice before joining forces with soldiers from the nationalist Right Sector battalion at Ilovaisk, the site of one the worst battles of the war. In fact, he became and is still friends with Dmitry Yarosh, the former leader of the Right Sector. Russian media focused attacks on Yarosh and tried to paint him as the leader of an anti-Semitic movement.
But Cherkassy said he doesn't experience anti-Semitism in Ukraine now. When he does see it, especially online, it's quickly shot down. "I can see from my Facebook feed that Ukrainians despise those people (anti-Semites) and what they write. They ban them online," he said.
In fact, one of his favourite pictures from his time at war is with the allegedly anti-Semitic Yarosh. "Somewhere there is this epic picture of Yarosh and I near Donetsk. There is a guy holding a yellow explosive that could blow up half of the village, and there are guys from the Right Sector, from OUN (Organisation of Ukrainian Nationalists), and us from Dnepr-1 and 93rd unit," he said.
The OUN and Right Sector are especially strange friends for Cherkassy because they both follow in the footsteps of the Ukrainian Insurgent Army (UPA), explained Alexander Clarkson, a lecturer in German, European and International studies at King's College in London.
"The great bulk of UPA fighters were to some degree anti-Semitic, but there was a small number of Jewish fighters in UPA as well, so people rationalise it that way to say 'see they weren't that bad', but it's undeniable that UPA committed brutal acts against Jews."
As the war continues to grind on, Asher feels it's important to remember that although there are people who identify as Nazis in Ukraine, they are a tiny minority of the population and hold no popularity in the mainstream. Even the nationalist Right Sector party, which is largely seen as the most popular group, only has one member in Ukraine's parliament.
Cherkassy said that his feats on the battlefield have been overblown, but he feels proud of the contribution he made in the psychological war. To him, that's the most important take away from his time at war. The mayor of Dnipro, Borys Filatov, even acknowledged the powerful symbolism of Cherkassy in a popular Facebook post. In the post, Filatov wrote: "This is the guy who completely broke the thesis of Russian propaganda about anti-Semitism and Fascism in Ukraine."
Cherkassy proudly agreed: "It is true. They can use me as an example. There were many Jewish people fighting, but maybe I just have the most memorable unique look, you know. There were guys with beards, but maybe I was the first or whatever, at that time I was unique."
---
Christian Borys is a freelance journalist based in Kiev
---