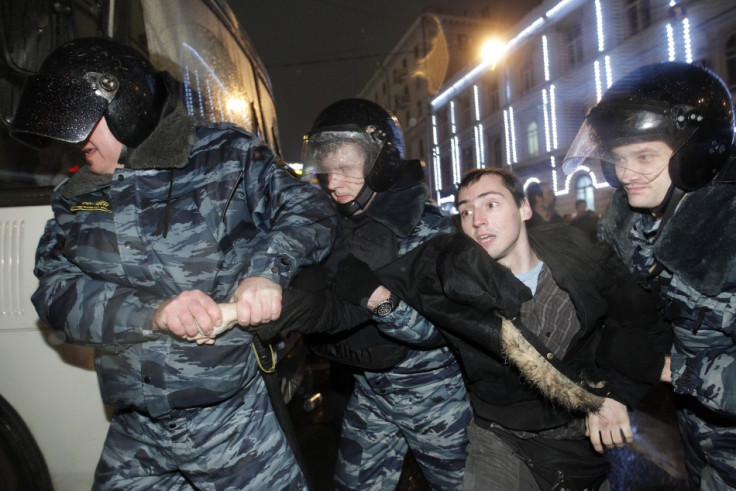 Moscow is poised to host the biggest rally of its recent history as tens of thousands of Russians are expected to protest against the parliamentary election's results.
Authorities allowed the opposition to hold the rally following a police crackdown on a series of demonstrations this week.
Speaking at a meeting with police officials in Moscow, Russian Interior Minister Rashid Nurgaliyev warned, however, that unsanctioned rallies would be "suppressed."
"Nearly [all of the planned opposition rallies] have been authorized in accordance with the existing procedure," Nurgaliyev said.
"However, as you know, the realization of the constitutional right of citizens to express their opinion should not restrict other people's rights. Therefore, any attempts to hold unsanctioned gatherings and violations of law and order should be suppressed by law enforcement personnel in accordance with current Russian legislation."
Up to 30,000 people are expected and similar protests have been organised in other cities across Russia.
This week's demonstrations were triggered by allegations of vote-rigging in Sunday's parliamentary elections. Undercover videos have been released appearing to show widespread fraud at the ballot-box.
On Monday night, in the biggest opposition rally in years, the police detained about 300 activists.
Estimates of the number of protesters ranged from 5,000 to 10,000, according to the AP.
Putin's United Russia party won about 50 per cent of Sunday's vote, which represent a sharp drop from the last election, when the party took 64 per cent.
Protesters gathered on Twitter and Facebook to organise the mass rally, but thousands of Twitter accounts have been created by pro-governmental hacker to overflow the social networking with useless hashtags, with the results of making it impossible to follow the stream of news.
Liberal websites including the LiveJournal blogging platform, the website for radio station Ekho Moskvy and weekly journal Bolshoi Gorod have been shut down.
Russian President Dmitry Medvedev sparked furious criticism on Twitter for retweeting a post dubbing activist Alexey Navalny, which has been jailed for taking part to a Monday's opposition protest, as a "cocksucking sheep", The Guardian reports.
"Today it became clear that a person who writes in their blog the words 'party of crooks and thieves' is a stupid, c*cksucking sheep :),"reads the original tweet, written by a Duma deputy. Medvedev's official Twitter account retweeted the note. But the Kremlin press office said that the move was an "inadmissible interference" made by "an employee in charge of technical support for the account" of Russian President.
Meanwhile, Russian Prime Minister Vladmir Putin has launched a harsh attack on US Secretary of State Hillary Clinton, accusing her of deliberately sending a signal to the opposition to protest. Clinton had previously expressed her concerns over the heavy clampdown on protesters after the presidential elections. Putin said that Washington's criticism "had set the tone for some of our public figures inside the country. They heard this signal and launched active work with the US State Department's support.''