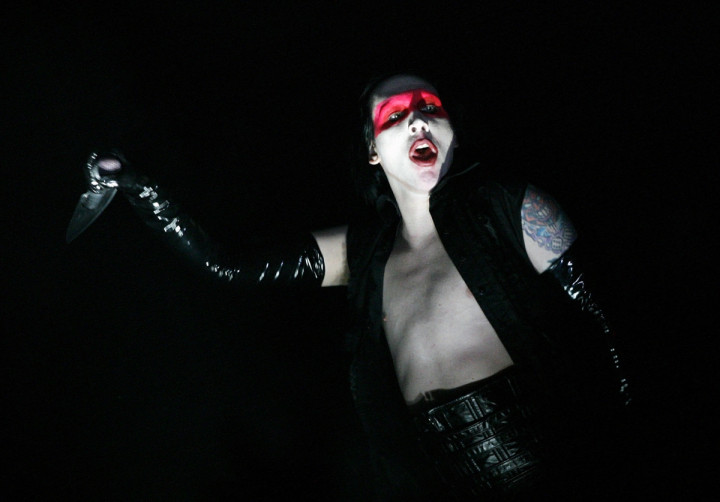 Russian Orthodox Christians have called on Moscow authorities to ban a performance by controversial rock singer Marilyn Manson.
Religious group God's Will argues that Manson's performances contravene Russian anti-blasphemy laws.
Group spokesman Dmitry Tsorionov told RIA Novosti that believers condemned the "blasphemy and profanity of his [Manson's] song lyrics but mostly his behaviour during performances".
"The burning and destruction of the Bible is an integral part of his show," said Tsorionov. "For example, the culmination of his concert in St Petersburg was the destruction of a Bible in front of an enthusiastic crowd that he had brought to an absolutely inadequate state."
The organisation also said Manson's performances were "full of elements insulting to the feelings of believers" and promoted "religious hatred, cruelty, murder, suicide, sexual perversion and Satanism among young people, including minors".
In July 2013, new anti-blasphemy laws were passed in Russia, making it a criminal offence to offend the "feelings of religious believers," after punk group Pussy Riot staged a protest gig in Moscow's Cathedral of Christ the Saviour.
Manson, who is scheduled to perform on 27 June, is already banned from taking the stage in other Russian cities.
A gig in Novosibirsk scheduled for 29 June has been cancelled by city authorities over "fear for the safety" of residents.
More than 400 people had taken part in a demonstration against the proposed performance earlier in june.
Manson has a growing following in Russia, and recently opened a page on Russian social networking site VKontakte, in which he experiments with writing in Russian.
It was announced yesterday that he will be appearing in hit US TV show Sons of Anarchy as a white supremacist.
The planned Moscow performance will kick off his nine-date world tour.