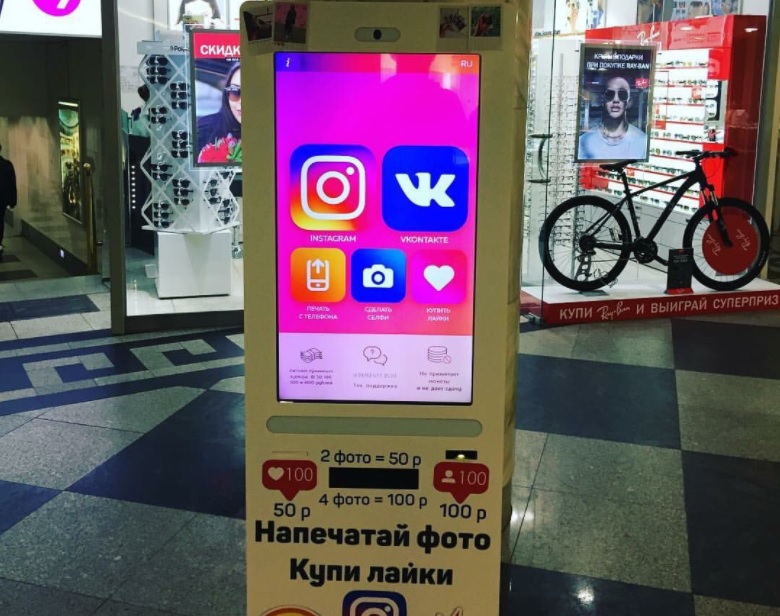 A vending machine selling Instagram followers and picture 'likes' has been spotted in a Moscow shopping centre.
The machine, which features a giant touch screen, offers to boost your Instagram follower count by 100 for 100 Russian rubles, which is approximately £1.40. Alternatively, users can opt to receive 100 likes on one of their photos for 50 rubles.
As well as likes and followers - which are likely to be fake and automated 'bot' accounts, not real people - the machine has a camera for taking an impromptu shopping centre selfie, and a printer for making physical copies. The machine also works with Vkontakte, a popular Russian social network.
Russian journalist Alexey Kovalev tweeted a photo of the vending machine, saying: "Yes people, this thing is real. On offer: print your Insta pics, buy Insta/Vkontakte likes/followers (50 rubles per 100 likes)." Kovalev told Motherboard he has seen the machines all over Moscow, including one in a bookshop, and said he had heard reports of them appearing in other Russian cities too.
In a followup tweet Kovalev pointed out how selling bogus Instagram likes and followers is big business in Russia. One service claims to offer 50,000 new followers for 16,000 rubles (£218), 100,000 followers for 32,000 rubles and 150,000 followers for 48,000 rubles. The service claims the followers will comment on your posts and engage with your photos immediately after you post them.
Kovalev said he has asked a friend to record a video of the vending machine later today (7 June) to show how it works.