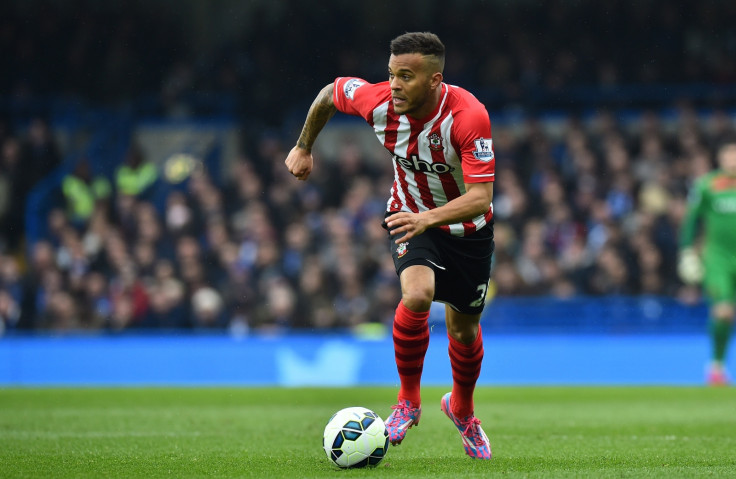 Ryan Bertrand claims he probably should still be playing for Chelsea but admits he is "fantastically happy" following an impressive debut campaign with Southampton.
The left-back, included in Roy Hodgson's latest England squad for the upcoming friendly against Republic of Ireland and Euro 2016 qualifier in Slovenia, moved to Stamford Bridge as a teenager a decade ago but never quite managed to prove himself a capable long-term successor to Ashley Cole despite starting the 2012 Champions League final victory over Bayern Munich.
With Cesar Azpilicueta having impressed out of position under Jose Mourinho and Filipe Luis then signed from Atletico Madrid, Bertrand left Chelsea for the south coast last summer on an initial season-long loan deal that was made permanent for an approximate £10m ($15.2m) fee during the January transfer window.
Although he failed to establish himself as a first-team regular for the recently crowned Premier League champions, Bertrand, who had previously been dispatched for several other temporary stints with the likes of Reading, Norwich, Nottingham Forest and Aston Villa, clearly bares no grudge towards his former employers and retains the belief that he is good enough to play for such a successful outfit.
"For me it wasn't a case of 'my career isn't going right, I'm not playing for Chelsea'," he was quoted as saying by The Guardian. "I know personally I should still be there and I should still be playing [for them].
"I know that in myself. That's my inner confidence. It's nothing to do with my capabilities that I'm not there, it's purely circumstance but it is no drama. That is football and these things happen. I'm not trying to prove people wrong and I've no grudges, no chip on my shoulder. Football is football, business is business."
While Chelsea flourished last season by capturing their first top-flight title since the reign of Carlo Ancelotti, Southampton also earned widespread plaudits for defying relatively gloomy pre-season expectations to finish seventh and book their spot in the third qualifying round of the Europa League by virtue of Arsenal's FA Cup victory.
Such an achievement is made all the more impressive when you consider that manager Ronald Koeman only succeeded Mauricio Pochettino in July 2014 and that the club had to endure a number of high-profile exits before the season began with Luke Shaw, Rickie Lambert, Adam Lallana and Dejan Lovren joining Manchester United and Liverpool respectively.
The experienced and wily Koeman succeeded brilliantly in rebuilding a plundered squad, however, with Bertrand in particular proving an ideal replacement for the popular Shaw at St Mary's.
"I am fantastically happy at Southampton now, playing week in, week out, developing as a footballer and really enjoying life," the 25-year-old added.
"I don't even look back and wish I'd made the move sooner. Everyone has their own path and this is mine, and I'm thankful for everything I learned in my years at Chelsea.
"I played with some fantastic players and under some world-class managers – 10 or 11 of them – and drew aspects from each and every one. Each season at Chelsea I sensed progress, from playing 10 games to 16, 20 to 34 over a campaign. But the season when it didn't pan out the way I'd hoped and I lost out on being with England, that made it clear I needed to find somewhere to play consistently."