Ryan Mason now 'talking to visitors' after surgery on fractured skull
Mason still in St. Mary's hospital recovering from emergency surgery after clash of heads with Gary Cahill.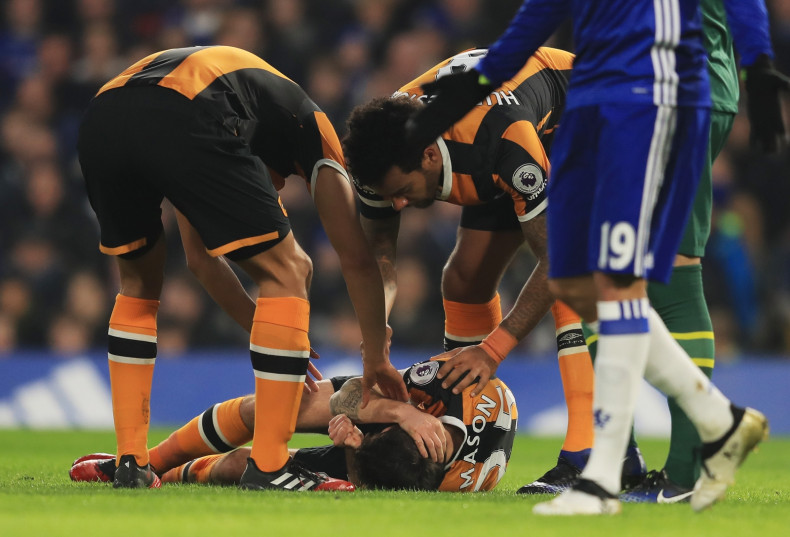 Hull City have confirmed midfielder Ryan Mason has been speaking to visitors about the tragic incident which put football into perspective yesterday (22 January) in west London. Club captain Michael Dawson, club doctor Mark Waller, head of medical Rob Pryce and club secretary Matt Wild have all gone to visit the 25-year-old.
The former Tottenham Hotspur graduate fractured his skull after a clash of heads with Blues defender Gary Cahill thirteen minutes into Chelsea's match against Hull at Stamford Bridge. The ex-Millwall loanee will continue to be monitored in hospital as he recovers from surgery.
A Hull statement read: "Ryan has been speaking of the incident yesterday and will continue to be monitored at the hospital over the coming days. The club will remain in close contact with Ryan, his family and the staff at St Mary's."
Mason and Cahill collided when jostling to get on the end of a Pedro cross with the game at 0-0, an incident which led to nine minutes of first-half injury time. Chelsea's centre-half was able to play on with the Tigers midfielder departing on a stretcher and receiving oxygen.
"Ryan and his family have also been extremely touched by the overwhelming support they have received," the club statement added.
Head injuries: What you need to know
When head trauma occurs, doctors are obviously concerned about how much damage there might be to the brain.
Some skull fractures need little or no treatment and will heal with time. Some fractures however need urgent treatment.
Any bits of bone that have been pressed inwards can be removed and returned to their correct position. If necessary, metal wire or mesh may be used to reconnect the pieces.
Once the bone is back in place, it should heal.
Real Madrid's Gareth Bale, a former teammate of Mason when the pair were at Tottenham, wrote on Twitter: "Get well soon Mase!! Thoughts are with you and your family, stay strong!!!"
Cahill, Chelsea captain John Terry and assistant manager Steve Holland also visited on Sunday to check on Mason's progress spending time with his family.
The English-born midfielder has scored one goal in 16 appearances for Hull this season after joining from White Hart Lane in August for a club record fee of £13 million.