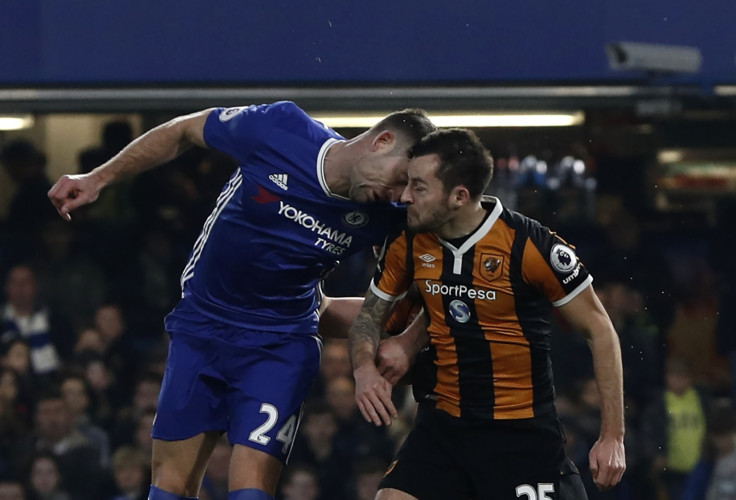 The footballing world has paid tribute to Hull City midfielder Ryan Mason after he suffered a fractured skull during his side's defeat by Chelsea on Sunday (22 January). The 25-year-old clashed heads with Gary Cahill during the embryonic stages of the clash at Stamford Bridge and, after lengthy treatment, was rushed to St Mary's hospital for emergency surgery.
Mason is now in a stable condition and will spend the next few days in hospital. Hull issued a statement regarding Mason's condition last night and thanked St Mary's for their 'excellent and swift care' of the stricken midfielder, while footballers and other clubs took to social media to send their best wishes.
"Ryan is in a stable condition and expected to remain in hospital for the next few days," Hull said in a statement on their official website.
"Everyone at the club would like to express their sincere thanks for the excellent and swift care given to Ryan by both the accident and emergency department and neurosurgery unit at St Mary's Hospital."
The Tigers issued a further update on Monday: "Ryan has been visited this morning at St Mary's Hospital by Club Captain Michael Dawson, Club Doctor Mark Waller, Head of Medical Rob Price and Club Secretary Matt Wild.
"Ryan has been speaking of the incident yesterday and will continue to be monitored at the hospital over the coming days where the Club will remain in close contact with Ryan, his family and the staff at St Mary's.
"Ryan and his family have also been extremely touched by the overwhelming support they have received and would very much like to thank all of those who have posted such positive comments both on social media and in the press over the last 24 hours."
Peter McCabe, chief executive of Headway, a charity that works to improve life after brain injuries, also commended the medical treatment Mason received and believes football has learnt from previous incidents: "The thoughts of everyone at Headway are with Ryan at this moment, while we also offer our full support to his family.
"At Headway, we know how difficult a time this can be for families. Brain injuries are completely unpredictable and naturally there will be considerable concern and uncertainty as doctors treat a bleed to Ryan's brain."
"I was actually at the match and, while it was upsetting to witness the incident, it was encouraging to see the exemplary reaction of the medical teams. Headway has been critical of the way in which head injuries have been treated in many high-profile football incidents in recent years, but it is positive to see that lessons appear to have been learned."
Hull players and referee Neil Swarbrick instantly realised the severity of the situation and called for medical staff as Mason lay on the turf. The England international was wearing an oxygen mask as he was stretchered off the pitch, but Cahill somewhat remarkably finished the game and even scored the winner as Antonio Conte's men ran out 2-0 victors.
Cahill, a teammate of Mason's at international level, explained the unfortunate incident and passed on a message of support: "I tried to get on the end of the cross. We smashed heads. I wish him all the very best." The Chelsea defender told BBC Sport.
Cahill was one of a whole host of footballers to wish Mason all the best in his recovery. Real Madrid superstar Gareth Bale, Radamel Falcao, Hector Bellerin and even One Direction singer Niall Horan were among those to take to social media and send their best wishes.
While the overwhelming majority of supporters wished Mason the best of luck in his recovery, there were a few who saw it as an opportunity to abuse the unfortunate midfielder. @KandzetFC tweeted a message saying Mason 'deserved that for playing for Tottenham' before deleting his Twitter account entirely.