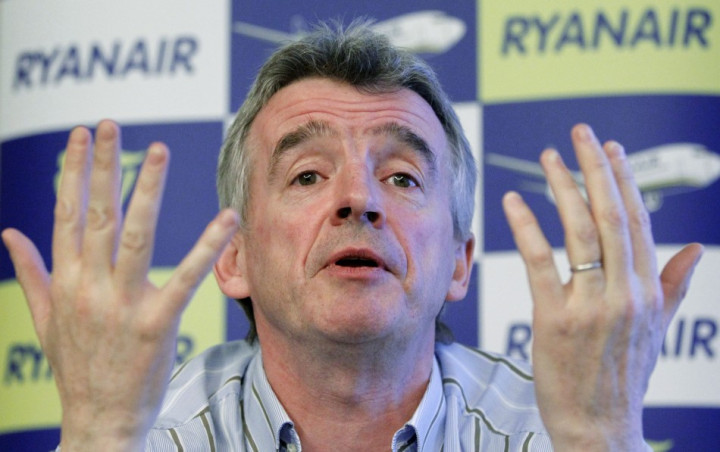 Ryanair, Europe\'s largest low-cost airline, warned the market of a dramatic profit slump for the next year, despite beating analyst expectations with a 25 percent surge in profits for the 12 months leading up to 31 March 2012.
Despite profit after tax growing by €50m euros year-on-year, beating analyst forecasts of €419m, Ryanair said in a statement that higher fuel costs and worsening economic conditions will erase most of last years profits, as it predicts profits could slump by up to 20 percent.
Ryanair shares plunged more than 6.35 percent in early trading Monday to change hands at €3.79, the lowest level since late January.
\"Recession, austerity, currency concerns and lower fares at new and growing bases ... will make it difficult to repeat this year\'s record results,\" said Chief Executive Michael O\'Leary in a statement. \"Any increase in fares will only partially offset higher fuel costs.\"
Revenues increased by 19 percent to €4.33b in 2011 to 2012, as the number of passengers grew 5 percent to almost 76m and average fares climbed 16 percent.
However, fuel costs soared 30 percent over the reporting period and the group warned it would be unable to pass on an additional €320mn hike in fuel costs expected in the coming year and that the recession in Europe would make it \"difficult\" to repeat the record results.
\"There\'s a poor environment, it\'s the fourth year of this, and repeating (fare growth of) 16 percent is not going to happen,\" said Chief Financial Officer Howard Millar in a statement. \"Ryanair is not as worried about the fallout of Greece\'s current political crisis as the fact that the euro zone is suffering its fourth year of poor economic performance. Greece is very small for us ... we would be more concerned about places like Spain, its high unemployment and plans to raise taxes.\"
Despite the warning, Ryanair announced it would pay out €483m to shareholders in its second-ever dividend payout since floating in 1997.
Ryanair is the latest in a long line of airlines that have voiced concerns, issued profit warnings or issued actual drops in profits, following the rising cost of fuel.
IBTimes UK revealed that while many airlines use hedging, the act of entering a range of financial product contracts or hedges that look to protect them against certain market price movements, in order to help manage the risk of rising fuel costs, this was not enough to mitigate losses.
While the fuel hedging programme was not broken down in the latest set of results, Ryanair showed in its third quarter earnings statement that it had hedged 90 percent of its fuel on average for the full year of 2012 at $820 per metric tonne (pmt) and it will hedge 80 percent of fuel on average at $990/pmt for the full year of 2013.