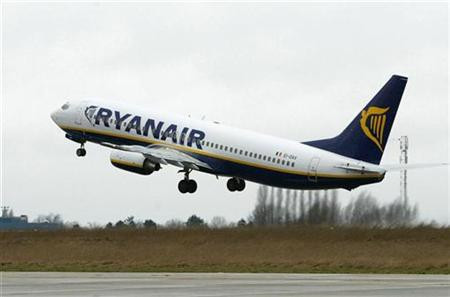 Budget airline Ryanair said it was optimistic of the coming financial year after announcing an increase in pre-tax profit of over 200 per cent in the full year ended 31 March 2010.
The company said that it carried 66.5 million passengers in the year, up 14 per cent from the previous year, while revenue increased two per cent to just under three billion euros.
Pre-tax profit in the year increased 204 per cent to 319 million euros. The airline said that it would be paying out 500 million euros in dividends to shareholders.
During the year Ryanair said it had acquired a net 51 new aircraft, had opened eight new bases, taking its total number of bases to 42. In addition the airline opened 284 new routes, taking its total to 940.
Ryanair said its profit had soared despite a "collapse" in the tourism industry of its home country of Ireland. The airline also condemned "repeated" and "unnecessary" closures of European airspace thanks to volcanic ash, resulting in the cancellation of 9,400 Ryanair flights and losing the airline 1.5 million passengers.
While Ryanair said it was not sure how much the ash closures may have cost it, the airline put an initial estimate of the cost at 50 million euros. Ryanair also hit out at the EU saying its regulations forcing it to reimburse passengers were "manifestly unfair, disproportionate and discriminatory".
On the outlook for the future Ryanair said it expected Q1 net profit to drop from the previous year thanks to volcanic ash, however for the full year Ryanair predicted a rise in pre-tax profit of 10-15 per cent to 350 million to 375 million euros.