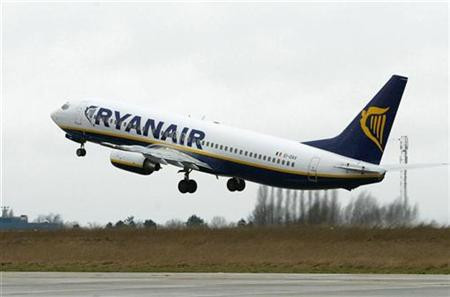 Budget airline Ryanair reported a fall in its losses in the third quarter ended 31 December 2010, and added that it expected full year results to be towards the upper end of expectations.
During the period passenger numbers rose six per cent from the previous year to 17 million, while revenue increased 22 per cent to 746 million euros.
Adjusted post-tax losses were 10.3 million euros, down from a loss of 10.9 million euros in the same period the previous year.
Michael O'Leary, CEO of Ryanair, said, "This small Q3 loss of €10m is disappointing, as we were on track to break even, but earnings were hit by a series of ATC strikes/walkouts in Q3, compounded by a spate of bad weather airport closures in December. The scale of these disruptions is evident by the fact that we cancelled over 3,000 flights in Q3, compared to over 1,400 cancellations during the previous fiscal year.
"We are surprised that the widespread negative commentary on the Irish economy has been allowed to cloud some analysis of Ryanair's future growth and profitability. Some commentators misunderstand that over recent years, due to high airport costs at Shannon and Dublin, as well as rapid capacity growth in lower cost markets like Spain and Italy, Ireland has fallen from over 20% of Ryanair's originating traffic to less than 10% in the current year.
Ryanair has little exposure to the Irish economy
"Our outlook for Q4 and the remainder of FY11 remains largely unchanged. Easter does not fall in the current Q4, which makes the comparatives challenging. We expect traffic and average fares to continue to benefit from a better mix of new routes and bases, and competitor fuel surcharges (which in many cases exceed Ryanair's lowest fares). We expect our unit cost performance in Q4 to be marginally better thanks to the launch of new routes in Feb and March which will reduce the number of grounded aircraft by comparison with Q3. Accordingly, we are now confident that our Q4 and full year results will be towards the upper end of our previously guided range of a Net Profit after tax of between €380m to €400m after tax."