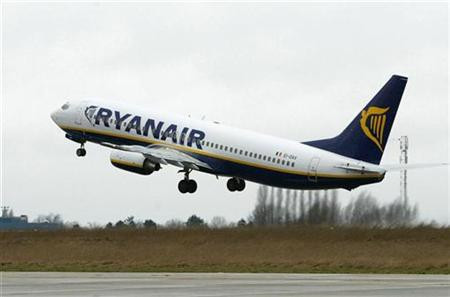 Ryanair have lost 50 million over the last three months after volcanic eruptions in Eyjafjallajokull caused severe traffic disruption over Europe.
The Irish budget airline group said that net profit between April and June was 1 pct up on last year at 136.5 million but almost half would be wiped out by exceptional items of volcanic disruption and Aer Lingus write-downs worth a total 63.5 million.
As a result, net profit in Q1 2011 fell to 73 million.
Michael O' Leary, Ryanair CEO said that: "Our Q1 profits were adversely impacted by the unnecessary closures of European airspace for 18 days in April and May." before adding "our outlook for the year remains cautious and unchanged."
Ryanair expects passenger volumes to increase and yields to rise between 10 to 15 pct over the interim - "As a result we expect full year Net profits to rise by 10 to 15 pct or between approximately 350 to 375 million, which remains in line with our previous guidance." the airline said.
In comparison, rivals easyJet lost £75 million in the ash disruption with guidance for full year down to £100 to £150 million from £200m - which Goldman Sachs predicted after downgrading them earlier this year:
"We prefer Ryanair (Buy) on valuation grounds to easyJet (down to Neutral) after the latter's sizeable outperformance so far this year." said Hugo Scott-Gall earlier this year, although adding - "easyJet has performed well through the recession and its strong unit revenue performance is testimony to the quality of its network".