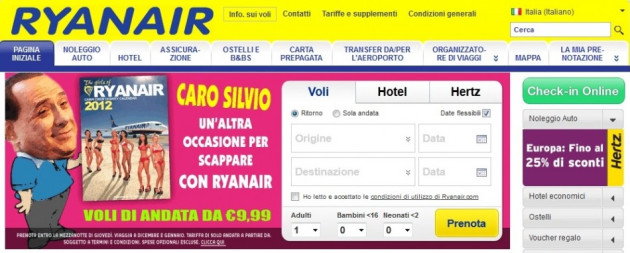 Even Ryanair is betting on Silvio Berlusconi's defeat after Tuesday's vote on the Italian budget that could force the 75-year old mogul to step down as prime minister.
The Irish low-cost airline's Italian website advertises a picture of a Berlusconi's smiling to a crew of beautiful girls in bikini. "Dear Silvio, this is another chance to fly away with Ryanair," reads the advertisement. This is not the first time that Ryanair teases the media tycoon. Three months ago the company put on a similar picture with another suggestion: "I have 560 million of good reasons to run away".
Ryanair's joke clearly refers to Berlusconi's latest gaffe at the G20 meeting in France, in which he dismissed the financial crisis hammering Italy. "Restaurants are full, it is difficult to reserve a seat on a plane, and holiday resorts during bank holidays are fully booked," Berlusconi said. "If you moved to Italy, I don't think you would sense anything that could resemble a strong crisis. We really are a strong economy. Italians are well-off. "