Newly elected Mayor of London, Sadiq Khan, has been basking in the afterglow of victory following his landslide victory to become London's first ever Muslim mayor. Following a tense 24-hour wait, Sadiq Khan was announced as the mayor elect, officially, at 12.23am on Saturday, 7 May.
After enjoying yet another gloriously warm day in the capital on Saturday morning – not to mention lapping up the adulation contained at his official swearing in ceremony at Southwark Cathedral – it seems the new mayor is keen to let hearsay slide as he channels his thoughts and energies on the job ahead.
However, following his earlier inauguration at Southwark Cathedral this morning (7 May), Khan has already found himself in the glare of media limelight, before he's even completed his first day in charge of the capital.
At 1.31pm, Khan announced that he would stand down as MP for Tooting, South London – a post he has held since 2005 – after taking up his new post as London Mayor. The announcement will trigger a by-election.
By 3pm, Khan's official Twitter account was active once again, tweeting pictures of himself taking his oath and giving his introductory speech at the cathedral, which has been met with a largely positive response.
After the ceremony, at around 3.12pm, Khan was asked why the leader of the Labour party, Jeremy Corbyn, had not been present at the ceremony. Khan replied: "It's an open invite, I'm not sure what Jeremy was doing today. We'll have to find out what he was doing." Shortly afterwards, it emerged that Corbyn was travelling to Bristol to meet Martin Rees – Labour's newly-elected mayor of the city.
When Corbyn was asked if Khan's victory was a win for him, the Labour Party leader said: "I think this is a victory for Sadiq and a victory for the Labour Party."
A tweet from Channel 4 news correspondent Fatima Manji, sent since Corbyn's absence was noted, read: "Asked why #Corbyn was missing from ceremony #sadiqkhan said there wasn't enough "capacity" for more ppl and he'll be seeing JC in next few days."
At 3.18pm, Khan was then grilled over his thoughts about his rival, Zac Goldsmith MP, and his campaign, which was branded as a smear campaign by both Labour and Conservative supporters and MPs.
"I'm mayor of London now. I've got bigger things to worry about than Zac Goldsmith's campaign.
It's for them to ask themselves the question, how is it that in the most diverse and fantastic city in the world they chose to have a negative, desperate and divisive campaign?" reported the BBC.
Meanwhile, those checking the tweets sent from the official @MayorOfLondon account will have noticed that the feed hasn't been updated since 6 May. The previous mayor, Boris Johnson, used the Twitter account as his personal Twitter account. Yet, for much of the day the account's page was branded Boris.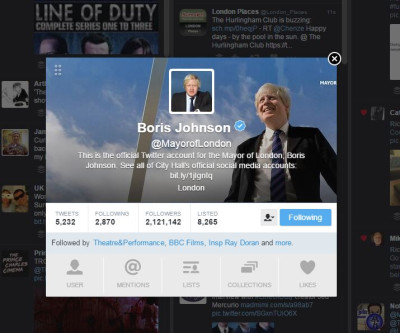 It seemed no one from the transitioning office thought to tell Boris that he should stop using the account – possibly the last remaining strand of Mayor Boris branding left over from Johnson's reign.